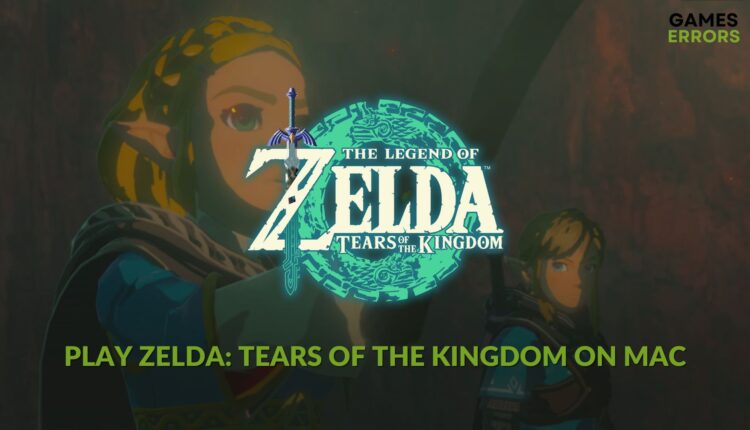 How to Play Zelda: Tears of the Kingdom on Mac [Simple Guide]
You can install Ryujinx on macOS and do these things to play Zelda: TOTK on your Mac 💻
X
INSTALL BY CLICKING THE DOWNLOAD FILE
You should emulate Zelda: TOTK on Mac only if you already have bought the official game and want to play it on your macOS device for personal reasons. It can be unethical and illegal to emulate a game on an unofficial platform.
Are you willing to play Zelda: Tears of the Kingdon on your Mac? The good news is you can do it. This article will explain the procedures in detail.
Usually, macOS is not as popular for gaming as Windows. However, you can play some small and specific high-end games if the specifications are good enough. But emulating Nintendo Switch games like Zelda TOTK on Mac is unusual. Surprisingly, you can do it by following specific steps.
Learn how to run Zelda: Tears of the Kingd on PC if necessary.
Can you play any Zelda games on Mac?
Yes, you can play Zelda on Mac. There are several Nintendo Switch emulators available for macOS. So, you can play Zelda without any problem. Even the latest Tears of the Kingdom can be emulated on this operating system using Ryujinx.
As the new Apple Silicon Macs are not very powerful in terms of graphics performance like the high-end Windows PCs with better-dedicated GPUs, you may not get the expected performance. But it's still playable and enjoyable.
If you are interested, check out these best Zelda Emulators for PC.
How can I play Zelda: Tears of the Kingdom on my Mac?
Time needed: 2 minutes
To play Zelda: Tears of the Kingdom on macOS, you should use an emulator like Ryujinx and tweak a few things.
Visit Ryujinx's website and download the emulator for macOS.

Using a browser, visit a trusted site and download the NSP ROM for The Legend of Zelda: Tears of the Kingdom.
Return to the Ryujinx.
Choose the downloaded file and click on Open.
Start playing Zelda TOTK on your Mac.
In case you already have opened Ryujinx on your Mac, you will not have to press and hold the Shift key for this anymore. You can launch it normally, like other apps. If you want, you can copy the Ryujinx app to the Application folder of macOS.
Please keep in mind that in some cases, you may get unexpected errors while launching Zelda on Mac. So, we suggest you learn how to fix the firmware not found error while opening TOTK on Ryujinx.
If you are interested, also learn the ways to fix Zelda: TOTK won't launch.
Zelda: Tears of the Kingdom Compatibility & Legality
Another important aspect of playing Zelda: Tears of the Kingdom on Mac is its compatibility and legality. Using an emulator to play Nintendo Switch games on your Mac may have some advantages, such as saving money, accessing exclusive features, and enhancing graphics and performance. However, it may also have some disadvantages, such as violating Nintendo's terms of service, infringing on intellectual property rights, and exposing your Mac to malware and viruses.
Therefore, you should be aware of the risks and benefits of using an emulator and take the necessary precautions to avoid any legal or technical issues. Here are some tips on how to install and use an emulator safely:
| Tips | Details |
| --- | --- |
| 1. Own a legal copy of the game and a Nintendo Switch console | This will ensure that you are not pirating or stealing the game from Nintendo or other developers. |
| 2. Download and install the emulator from its official website or a trusted source | Do not use any third-party or unofficial links that may contain malware or viruses. |
| 3. Scan your Mac for any potential threats before and after using the emulator | Use a reliable antivirus software and update it regularly. |
| 4. Backup your Mac's data and files before using the emulator | This will help you recover your Mac in case of any damage or corruption caused by the emulator. |
| 5. Follow the official guides and tutorials on how to use the emulator properly | Do not modify or tamper with the emulator's settings or files without knowing what you are doing. |
| 6. Respect Nintendo's and other developers' rights and policies | Do not distribute or share the game or the emulator with others without their permission. |
A cute joke to end the article: You are among the luckiest ones who want to play Zelda: Tears of the Kingdom on Mac. You must have a lot of courage, wisdom, and power to pull that off. Or maybe you just have a lot of tears. 😅
Conclusion
Zelda: Tears of the Kingdom is a Nintendo Switch game that is not officially supported on Mac. However, some Mac users have found a way to play it using an emulator called Ryujinx.
This article has explained how you can launch and play Zelda: Tears of the Kingdom on your Mac. If you have any questions, let us know in the comment box.