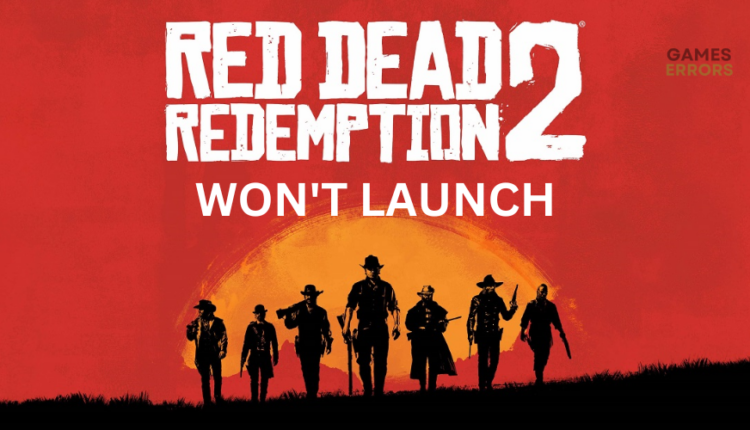 Red Dead Redemption 2 Won't Launch: Fix It in 3 Quick Ways
Don't let the RDR2 won't launch issue get in your way of fun by trying some of our fixes below ⤵.
Red Dead Redemption 2 is a fantastic game, but players encounter various problems and issues such as the Red Dead Redemption won't launch error. Many gamers have reported being unable to launch RDR 2, and the game gets stuck on the loading screen. If you experience the same, we have created this detailed troubleshooting guide to help fix the issue.
Why is Red Dead Redemption 2 not launching on PC?
The main reason you might encounter the Red Dead Redemption 2 not launching error could be that you have corrupted or missing system files. In addition, other possible causes of the error include:
Outdated and corrupt GPU drivers
Outdated game version and game launcher
Lack of administrative privileges
Security programs marking RDR2 as a threat
Outdated Windows
Incorrect in-game graphic settings
Hardware configuration issues
Conflicting background processes
How to fix Red Dead Redemption 2 won't launch?
Before implementing any of our fixes below, we recommend doing the following pre-checks:
Confirm your PC's hardware configuration meets the minimum and recommended specifications to play RDR2.
Temporarily turn off security programs, like Windows Firewall Defender, which might mark the game as a virus which might be the reason for the RDR2 failure to launch error . You can also add RDR2 to your firewall exception list.
If you encounter the RDR2 won't launch error, try the following simple fixes:
1. Change in-game graphics API to DirectX12
Time needed: 2 minutes
The API in RDR2 is set to Vulkan by default. Unfortunately, this may trigger unknown errors, including launch issues. Changing the graphics API from Vulkan to DirectX 12 is advisable to help the game launch successfully. To do this:
Open settings

Launch RDR2 and navigate to the Settings menu.

Open graphics

Select Graphics from the list of options.

Advanced settings

On the left-hand pane, scroll down to find the Advanced Settings tab. Set it to Unlock if it's not set.

Graphics API

You'll see the Graphics API tab below the Advanced Settings tab. Click the arrow to the left to change it from Vulkan to DirectX12.

Confirm changes

Click Yes to confirm the changes.

Restart RDR2

Relaunch RDR2 to see if it launches seamlessly.
2. Update graphics drivers
Graphics drivers play a crucial role in gaming performance. If they're corrupt or outdated, they affect how your PC functions, triggering gaming issues. Update your graphics drivers to the latest version to increase gaming performance and prevent common errors, like the one causing a failure to launch RDR2. You can update your graphics drivers either manually or automatically.
Manually
Open the Windows Quick Access Menu, locate the Device Manager, and click to Open.
Find the Display Adapters tab and double-click it to expand the category.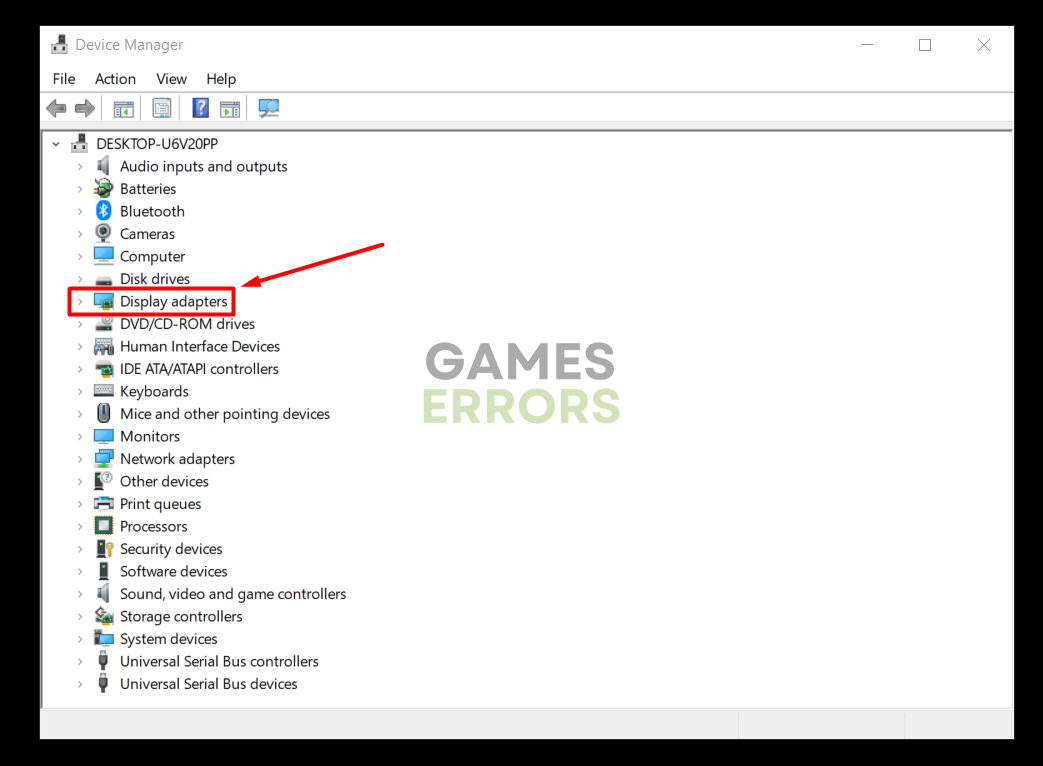 Right-click the dedicated graphics driver from the list of options and click Update Driver.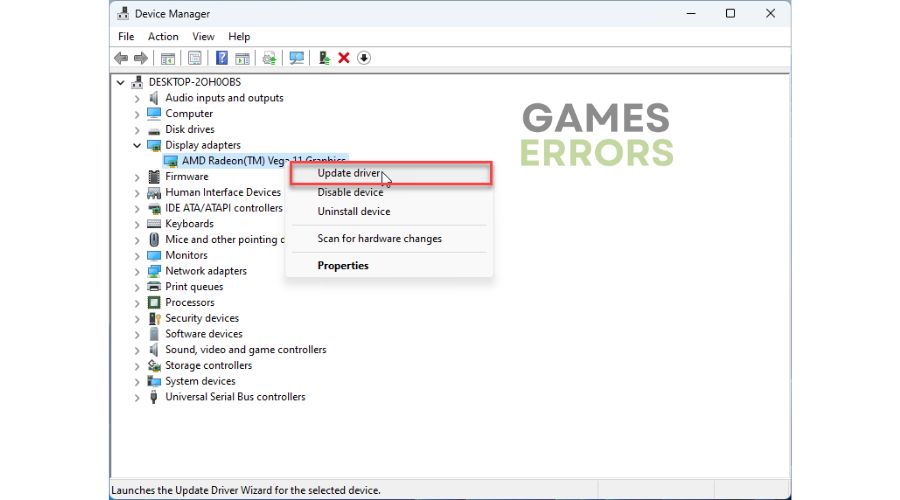 Next, click Search automatically for drivers.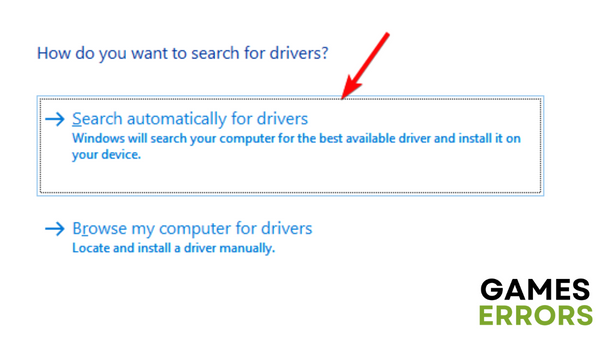 Let your system find and install the latest graphic drivers.
Restart your PC to apply changes and relaunch RDR2 to see if it launches successfully.
Automatically:
You don't have to update your graphics drivers manually. With Outbyte Driver Updater, you can automatically update your device drivers hassle-free. This saves you the time and effort required to update your drivers manually. Simply download and install this third-party tool to automatically update your drivers.
⇒ Get Outbyte Driver Updater
3. Delete the settings folder
Some users report fixing the Red Dead Redemption 2 failed to launch issue by removing the settings folder. This folder may be corrupted or damaged, causing problems launching in RDR2. Here's how to delete the settings folder:
Click the File Explorer icon on your Windows taskbar to open it.
On the left-hand pane, select the Documents tab and find the Rockstar Games folder.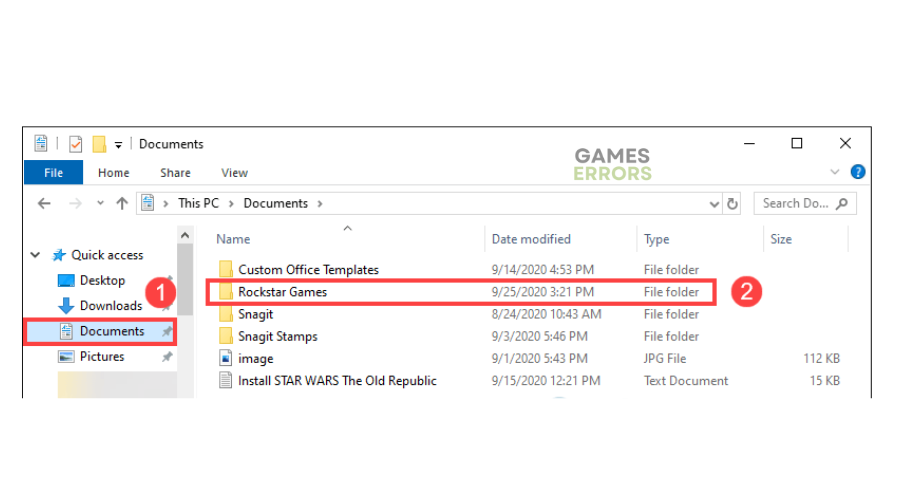 Double-click the Rockstar Games folder to open and locate the Red Dead Redemption 2 folder.
Double-click the RDR2 folder to open it. You'll see the Settings folder. Delete it and empty your trash bin.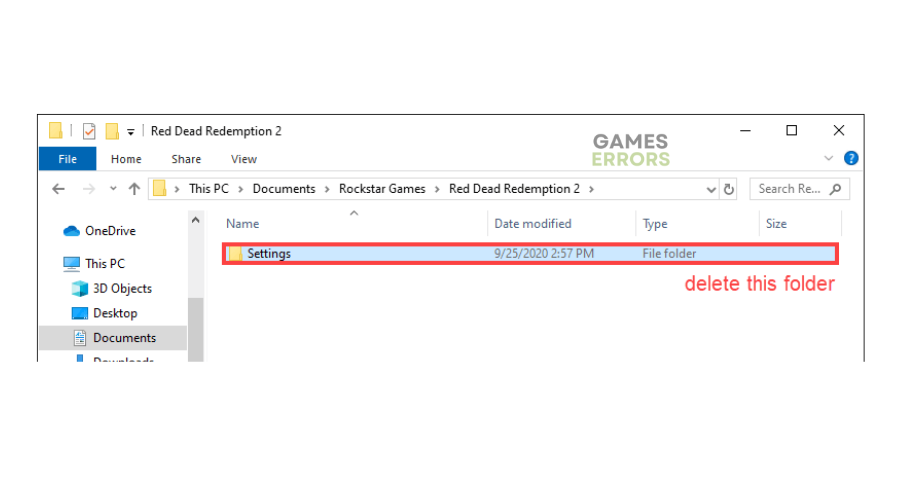 Try running the game to see if it launches.
🎯 Other solutions that may work:
Related Red Dead Redemption 2 articles:
Conclusion
If you're unable to launch RDR2, it can be frustrating and ruin the gaming experience. Remember to change the in-game graphics API to DirectX12 and delete the settings folder. Additionally, update your graphics driver to ensure your PC runs smoothly.