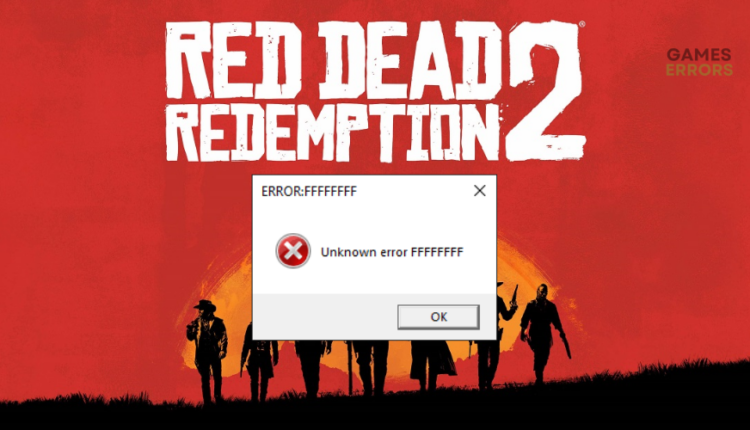 RDR2 Error FFFF: Fix It Quickly in 4 Ways
The error FFFF causes your game to crash constantly, but we cab help fix this with our troubleshooting steps.
Red Dead Redemption 2 is an online game created by Rockstar Games. The developers work actively to remove gaming bugs and glitches that affect players. However, despite their ongoing efforts to release patches and updates that fix gaming issues, players still encounter problems during gameplay. The RDR2 Error FFFF is one popular error plaguing Red Dead Redemption 2 fans. It usually occurs when launching Red Dead Redemption 2 and displays the following message:
Unknown error FFFFFFFFFF
If you're a victim of the error, we have created this detailed fixing guide to help you resolve it. Keep reading to find possible solutions for the RDR2 error FFFF.
What is error code FFFF in Red Dead Redemption 2?
The Red Redemption 2 error ffff is an audio-related issue. It may indicate a problem with your audio and sound driver, such as outdated or corrupt audio drivers. The error can also be caused by:
Corrupt and missing game files
Outdated Red Redemption 2 version
Outdated Windows
Resource-hungry apps running in the background
How to fix RDR2 error FFFF?
Before trying the Red Dead Redemption 2 Unknown Error FFFF fixes below, complete the following pre-checks:
Check Windows updates for system updates
Update Red Redemption 2
Close any resource-hungry apps running in the background
If you encounter the RDR2 error FFFF, perform the following fixes:
1. Disable additional audio device drivers
Since the Red Dead Redemption 2 error FFFF is audio-related, you may want to disable additional audio device drivers. They may be conflicting and interfering with the game and its launcher, triggering errors that cause it to crash during the launch. Here's how to do this:
On the Windows Quick Access Menu, click Device Manager to open.
Navigate to Sound, video, and game controllers and double-click to expand the category.
Locate additional audio device drivers in this section. Right-click it and select Disable device from the list of options.
Close the Device Manager and restart your PC to save changes.
Launch RDR2 to see if the error is resolved.
2. Update audio drivers
3. Enable Vulkan API
Vulkan is essentially like DirectX, an API that renders textures and graphics for games. The Vulkan API works best with the AMD graphics card, while the DirectX API functions well with the NVIDIA graphics card. Enabling Vulkan API allows games that support it to run smoothly without encountering errors like Red Dead 2 Error FFFF. Here's how to do this:
Launch your Steam Client
Click Settings in the top left corner.
You'll see a variety of options to choose from.
Click on the one labeled Shader Pre-Caching.
You'll see a checkbox next to Allow Background processing of Vulkan Shaders. Check it to enable the option.
Once turned on, click OK to apply changes.
Relaunch Red Dead Redemption 2 to see if the problem is fixed.
4. Delete the Red Dead Redemption 2 Folder
The Red Dead Redemption 2 folder may contain corrupted files and a damaged data cache, causing errors. Deleting this folder helps remove corrupt files and other bugs and glitches. Here's how to do this:
Press Windows Key + I on your keyboard to open File Explorer
Select Documents from the left-hand pane.
Locate the Rockstar Games folder, then find Red Dead Redemption 2 in this folder.
Delete the folder and its contents by pressing the Delete button on your keyboard.
Empty your recycle bin.
Try launching Red Dead Redemption 2 to see if the issue is solved.
Additional RDR 2 error FFFF fixes:
Verify the Integrity Of Games Files: Scan and repair Red Dead Redemption 2 files to remove corrupt or faulty files.
Close unnecessary background apps: This method will help you prevent encountering conflicts and other problems related to system resources.
Related Articles:
Conclusion
The Red Dead Redemption 2 error FFFF causes the game to crash unexpectedly, preventing players from launching the title. Luckily, you can fix the issue by disabling additional audio device drivers and updating audio drivers. Remember to enable Vulkan API and delete the Red Dead Redemption 2 folder.