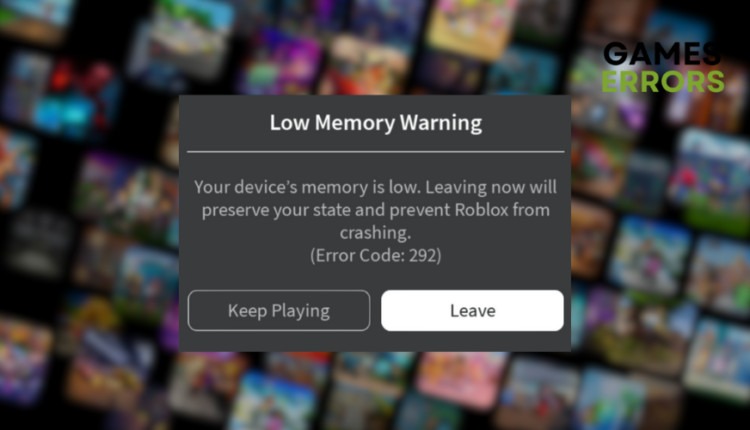 Error Code 292 Roblox: What Is & How to Fix It Quickly
Is your device running on low memory? Read our detailed troubleshooting guide on how to fix Roblox error code 292⚡
Occasional glitches like Roblox Error Code 292 find their way into your gameplay as the game looks for ways to enhance your immersive experience, which is a frustrating problem for anyone.
This error pops up on the platform's iOS app and alerts users of a low memory problem. The message reads:
Your device's memory is low. Leaving now will preserve your state and prevent Roblox from crashing (Error 292).
If you are currently experiencing Error Code 292 in Roblox, keep reading to find out what this error is all about and how to fix it ASAP.
What is Roblox Error Code 292?
Roblox Error Code 292, also known as a "Low Memory Warning," is an issue that occurs on the iOS app when your device is running low on available memory (RAM). This shortage of memory can lead to unexpected crashes or instability within the Roblox application.
The error is triggered to provide you with the opportunity to safely exit the experience when memory resources are limited. This issue can happen when there are too many apps running in the background or when your device's hardware isn't powerful enough to handle the demands of the Roblox experience you're trying to engage with.
How to Fix Roblox Error Code 292?
To fix Roblox Code 292, make sure that everything is up to date, and then try the solutions below:
Table of contents:
1. Update the Application
Updates often include fixes, improvements, and security patches that ensure a smoother and error-free experience while playing Roblox. To update the app:
Check if Roblox is updated to avoid technical issues.
Open App Store or Google Play Store.
Search for Roblox and access the game's download page.
Look for a new update
Tap the Update button if available to get the latest version.
2. Log Out and Log In
Logging out and logging back into the game can refresh your session and create a stable connection, and it can also fix the Roblox 292 error code. To do this:
Open Roblox app and tap on the settings menu.
Tap on More to access the other settings.
Scroll down and find the Logout option.
Close the Roblox app.
Open it again and log in to your account.
3. Clear Roblox Cache
Clearing the Roblox cache can resolve error 292 by removing stored temporary data that might be corrupted or causing conflicts. Here's how to do it:
Open your device settings.
Tap on Application settings.
Locate Roblox in the list.
Tap on Clear Data to remove old and unused Roblox data.
4. Change DNS Settings
Changing DNS settings can fix Roblox error 292 by providing a more stable and efficient connection to the game's servers. By using alternative DNS servers, you just might bypass potential network issues. To change DNS settings:
Go to Settings and open Wi-Fi connection settings.
Tap your current Wi-Fi connection and scroll to IP Settings.
Change IP Settings to Manual.
Enter the following DNS settings in DNS 1 and DNS 2:

DNS 1: 8.8.8.8
DNS 2: 8.8.4.4

Tap the tick mark and reconnect to Wi-Fi.
💎 Extra Steps
Reduce the graphics quality.
Choose a less graphics-intensive experience.
Use a more powerful device with more memory (RAM).
By following these steps, you can troubleshoot and potentially resolve Roblox Error Code 292.
Related Roblox Articles:
Conclusion
In conclusion, as you journey through the captivating world of Roblox, unexpected problems like Error Code 292 may ruin your experience.
As mentioned above, this problem signals low device memory that could lead to a potential crash. However, armed with the solutions listed above like updating the app, logging out and back in, clearing the cache, and tweaking DNS settings, you can fix the issue and get back into the game ASAP.
Remember, these steps not only fix the issue but also contribute to an enhanced gaming experience. Try these solutions to ensure your Roblox adventure remains seamless and error-free.
As always, let us know what worked for you in the comment section below.