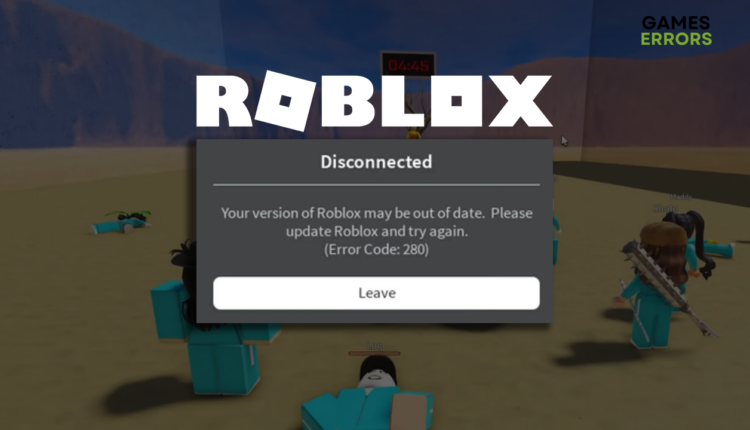 Roblox Error Code 280: How To Fix It Quickly
If you can't play Roblox due to this annoying error code, follow the solutions we prepared for you and remove this problem once and for all! 🚀
Roblox error code 280 occurs when your try to connect to the game server, and it rejects the connection. Although this should indicate that your Roblox is not updated, several other reasons can cause such an issue. Follow through our list of fixes to be able to play Roblox in no time!
Is the game unplayable due to latency? Learn how to fix high ping in Roblox.
Why do I get Roblox error code 280?
You get Roblox error code 280 due to an outdated game client, faulty date and time settings on your PC, misconfigured network devices, outdated network driver, faulty network settings, or faulty Roblox cache files. Other causes might be related to the Windows installation on your PC or antivirus software.
How to fix Roblox error code 280?
Fix this error code by following these quick checks and fixes:
Check for Roblox updates: Start with the obvious, what the error code 280 message also points to, the Roblox update. Although Roblox should be updated automatically, launch your game distribution platform and check for updates.
Update the date and time on your PC: Another common issue is misconfigured date and time on your device. This can happen when you travel or when your PC didn't run in a long time. Click on the clock in the right part of the taskbar and select Adjust date/time option. Settings will launch in a new tab. Set the time and date manually or synchronize automatically based on your timezone.
Restart your network device(s): Since the error code 280 indicates a problem with your client connecting to the game server, the problem might be your home network. Press the restart button, usually located on your modem or router.
Check Roblox Status: If there is a problem with Roblox servers, wait a bit and try again.
If the error code 280 still occurs, proceed with the step-by-step solutions.
1. Update the network driver
Time needed: 5 minutes
An outdated network driver will cause issues when connecting to the internet. This can cause many problems, including the Roblox error code 280. We advise you to update the network driver for the best multiplayer game experience.
Click the Windows icon, type Device Manager, and open it.

Double-click on Network Adapters.

Right-click on your internet adapter and select Update driver.

Select Search automatically for drivers.
Install the driver update.
Restart your PC.
If the previously described method is too much to handle or you don't find a driver update, we recommend using Outbyte Driver Updater. This driver updater tool will manage network, and other driver updates with minimal effort needed from your side!
⇒ Get Outbyte Driver Updater
2. Reset network settings
Regardless of your network driver, network settings are stored on your PC and help your PC connect to the internet via your network. When you experience network-related issues, we recommend you reset these network settings.
Click on the Windows icon, type Command Prompt, and open it.
Type the following commands in separate lines and hit Enter after each one:
ipconfig /flushdns
ipconfig /registerdns
ipconfig /release
ipconfig /renew
netsh winsock reset

Restart your PC.
3. Clear cache files
Roblox stores cache files on your PC to launch and run smoothly. However, an issue with saving cache files can cause the error 280 when you want to connect and play this game. To solve this, you can find and delete Roblox cache files.
Use the Windows Key + R shortcut to open the Run dialog, type %localappdata%, and hit OK.

Use the CTRL + A shortcut to select all files in the folder.
Press the Delete key to delete all the files in the folder.

💡 This method will delete all cache files from your PC, including the Roblox cache files. You can do it occasionally or when you experience similar problems in other games and programs.
Extra steps
Some Roblox players will experience issues with error 280, even after doing everything we recommended so far. If this is happening to you, try to:
⬆ Update Windows: We highly recommend you always keep your Windows updated. This way, you will avoid many possible issues and keep your PC safe. Click on the Windows icon, type Check for updates, launch these System Settings, and install updates if available.
❌ Temporarily disable antivirus: There is a chance your antivirus software is blocking your Roblox client from connecting to the game server. You can solve this by temporarily disabling the antivirus, checking if the error disappears, and then whitelisting Roblo if this is the issue. Don't forget to re-enable the antivirus software.
🔁 Reinstall Roblox: If nothing solves your issue, we recommend you uninstall Roblox entirely, restart your PC, and install clean. This way, you will have the latest version of the game without any possibly corrupted files.
Related articles:
Conclusion
Roblox error code 280 can be annoying and challenging to get rid of. We hope you followed through with our solutions and found the one that worked for you. Comment if you need additional assistance with Roblox or any other game.