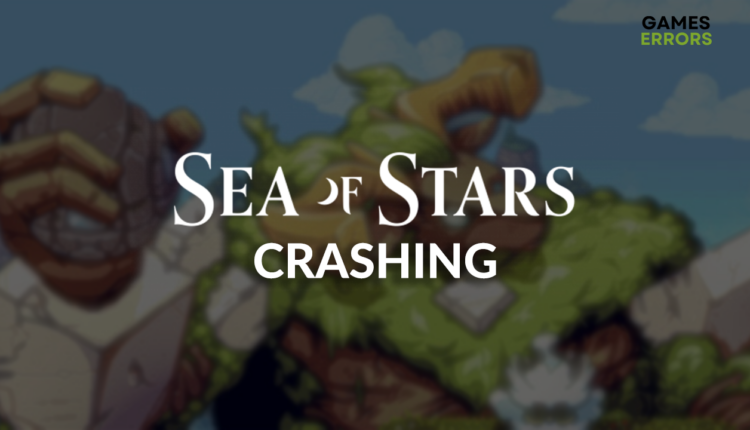 Sea of Stars Crashing: Here Are Effective Solutions
You were fighting The Fleshmancer's monsters when suddenly the game crashed! No worries. We are here to help you! 🤝
Enjoying a genuinely unique indie game can be quickly interrupted by Sea of Stars crashing. Although various reasons can cause game crashes, we listed the most frequent causes. With them, we paired the most suitable methods to stop crashes in Sea of Stars.
Are you experiencing problems with opening the game? Learn what to do when Sea of Stars doesn't launch.
Why is the Sea of Stars crashing?
Sea of Stars is crashing due to unnecessary background apps, corrupted game files, problems with Windows permissions, outdated DirectX or GPU drivers, missing or outdated Visual C++ dependencies, low virtual memory, high temperatures, or unsuitable overclock settings.
How to fix the Sea of Stars crashing?
Get started by performing some easy checks and fixes:
Close background apps: You can follow the guide for closing unnecessary apps to learn what apps you don't need when playing Sea of Stars and how to terminate them.
Verify game files: This is a fast method to discover and repair potentially corrupted game files.
Run the game as an administrator: Right-click on the Sea of Stars executable (.exe) file, select Properties and go to the Compatibility tab. Enable Run this program as an administrator and hit OK.
Use DirectX 12: This is the latest and the most advanced version of the standard API collection needed for audio and graphical processing.
Proceed with the step-by-step solutions listed below.
1. Update the GPU driver
Time needed: 5 minutes
An outdated GPU driver will cause performance and stability issues when you play games. Resolve crashes in Sea of Stars by updating your GPU driver to the latest version.
Click on the Windows icon, type Device Manager, and open it.

Double-click on the Display Adapters section.

Right-click on your GPU and select the Update driver option.

Select the Search automatically for drivers option.
Install the driver update.
Restart your PC.
If you are tired of game crashes caused by an outdated GPU driver, start using Outbyte Driver Updater. This reliable tool will take over the control and responsibility of driver management. This will save you time and hassle so that you will enjoy Sea of Stars and other games more!
⇒ Get Outbyte Driver Updater
2. Install Visual C++ dependencies
Games on Windows require Visual C++ dependencies to run stably. If they weren't installed with Sea of Stars, you must download and install them manually.
Open the official page for the Visual C++ Redist Packages download.
Click on the Link and download vc_redist suitable for your operating system architecture.
➡ X86 is for 32-bit systems.
➡ X64 is for 64-bit systems.

Run the installation package and follow the steps.
Restart your PC.
3. Increase Windows virtual memory
Virtual memory serves as a backup for your RAM. Although Sea of Stars is not a demanding game and requires only 4GB of RAM, it is recommended you manually set Windows virtual memory to a value two times bigger than your RAM.
Use the Windows Key + R shortcut to open the Run dialog, type control, and hit OK.

Click on the dropdown next to View by and select Large icons.

Click on the search, type Performance, and click on Adjust the appearance and performance of Windows.

Navigate to the Advance tab and hit the Change button under the Virtual Memory section.

Disable Automatically manage paging file size for all drives.

Select the Custom size button, enter values 2x of your RAM in MB, and hit the Set button.

Click OK and restart your PC.
Extra steps
Here are some additional methods to help you resolve crashes in Sea of Stars:
🥵 Lower the temperatures: Ensure your PC is adequately ventilated and regularly change the thermal paste.
❌ Disable overclock settings: Although it can be a great way to boost performance, disable these settings to prevent crashes in Sea of Stars.
⬆ Update Windows: Click on the Windows icon, type Check for Updates and open these System Settings. If any updates are pending, download and install them.
🔁 Reinstall Sea of Stars: We left this as the last option to fix Sea of Stars crashing issues.
Related articles:
Conclusion
In conclusion, you can troubleshoot Sea of Stars crashing by updating the GPU driver, installing Visual C++ dependencies, and increasing Windows virtual memory. Initially, closing all background apps and verifying game files is best. You can switch to DirectX 12 and run the game as an administrator.
Don't forget to lower the system temperatures and disable overclock settings. Finally, update the Windows, and even if that doesn't turn out helpful, reinstall Sea of Stars. Good luck with troubleshooting, and if you need more assistance, comment mentioning the specific error code you get.