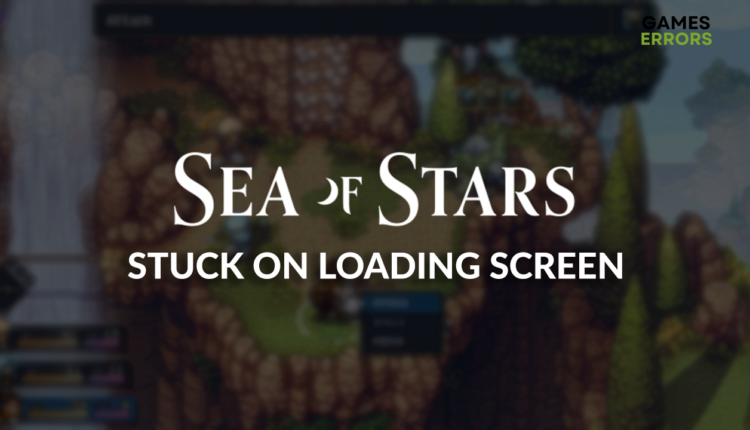 Sea of Stars Stuck on Loading Screen [Solved]
When waiting doesn't help, it's time to take action. The best way is by following our lead! 😎
Launching this fantastic indie game only to see that Sea of Stars stuck on loading screen will make it impossible for you to play it is annoying. We dedicated our time and attention to finding the most valuable solutions or resolving this Sea of Stars loading problem. Here is what we found out!
Some players complain that Sea of Stars crashes randomly even when it loads.
Why is Sea of Stars stuck on loading screen?
Sea of Stars is stuck on the loading screen due to corrupted game files, unnecessary background apps, lack of free disk space, Windows Firewall or antivirus blocking the game, pilled-up cache files, an outdated GPU driver, or other compatibility-related issues.
How to fix Sea of Stars stuck on loading screen?
Apply these easy checks and quick fixes:
Check Sea of Stars files: If any game files are corrupted, you must replace them. The fastest way to do this is through the game file verification system.
Close background apps: Some apps can cause compatibility issues making the game loading impossible.
Check the disk space: Ensure you have at least 15% free disk space on the partition on which you installed Sea of Stars.
Follow solutions for getting past the loading screen in Sea of Stars.
1. Add Sea of Stars as a Firewall exception
Time needed: 5 minutes
Windows Firewall is an essential security feature of your operating system and should always be enabled. Since there is a chance that it is recognizing Sea of Stars as a threat, and blocking it from launching, follow the steps below to add the game to the list of Firewall exceptions.
Click on the Windows icon, type Windows Defender Firewall, and open it.

Click on Allow an app or feature through Windows Defender Firewall.

Click on Change Settings and Allow Another App.

Select Browse and navigate to the Sea of Stars installation folder.
Click on the Sea of Stars executable file (.exe) and select Open.
Check the checkbox in columns Private and Public in the Sea of Stars row and hit OK.
Restart your PC.
2. Delete cache files
Cache files are stored on your PC, so games like Sea of Stars can launch quicker and run smoother. The problems, however, begin when these files are corrupted, so we advise you to delete them from the Local folder of your PC.
Use the Windows Key + R shortcut to open the Run dialog, type %localappdata%, and hit OK.

Use the CTRL + A shortcut to select all files in the folder.
Press the Delete key on your keyboard to delete all the files in the folder.
➡ If prompted to confirm, click on Yes.
➡ If you can't delete some files, click on Skip.

3. Update the GPU driver
An outdated GPU driver will limit the performance of your graphics card and make the initial graphical processing difficult. As a result, Sea of Stars cannot launch, so we advise you to keep your GPU driver up-to-date.
Click on the Windows icon, type Device Manager, and open it.

Double-click on the Display Adapters section.

Right-click on your GPU and select the Update driver option.

Select the Search automatically for drivers option.
Install the driver update.
Restart your PC.
Losing time while waiting for the game to load is annoying. If caused by an outdated driver, it's time to start using Outbyte Driver Updater, a swift tool that will do everything instead of you!
⇒ Get Outbyte Driver Updater
Extra steps
Some players might have more difficulties getting past the loading screen in Sea of Stars, and they will have to:
❌ Temporarily disable the antivirus: If the game loaded successfully, the antivirus blocked it before. Whitelist Sea of Stars and re-enable the antivirus protection.
📀 Launch Sea of Stars in the compatibility mode: Follow our guide to quickly launch the game in a compatibility mode for an older version of Windows.
🔁 Reinstall Sea of Stars: If nothing else resolves your issue proceed with uninstalling and reinstalling Sea of Stars.
Related articles:
Conclusion
These were the most valuable methods for resolving the Sea of Stars stuck on loading screen problem. Start by verifying game files and closing background apps before launching the game. Proceed with troubleshooting Sea of Stars loading issues by allowing the game through the Firewall, deleting cache files, and updating the GPU driver.
Don't forget to check if your antivirus creates issues and launch the game in compatibility mode. The last option is to reinstall the game. Thank you for following through! Now go back and enjoy exploring the magical Sea of Stars world.