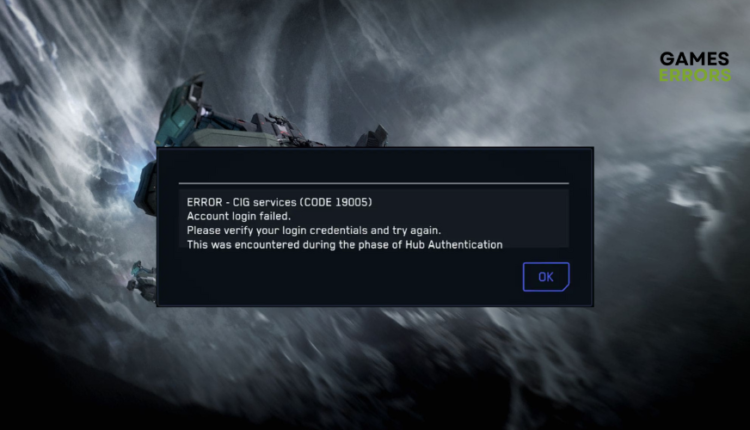 Star Citizen Error Code 19005: Easily Fix This Problem
Star Citizen Error Code 19005 can easily be fixed if you follow this simple guide🕹
X
INSTALL BY CLICKING THE DOWNLOAD FILE
Star Citizen is a highly anticipated space simulator, first-person shooter game.
The game has captured the imagination of players, which can be attributed to Its amazing graphics, open-world environment, and immersive gameplay. 
However, have you tried logging in but instead got a message saying, ERROR – CIG services [CODE 19005] 'Account Login Failed, Please verify your login credentials and try again, This was encountered during the phase of Hub Authentication'?
Star Citizen players have reported encountering this error code as well as Error Code 19004 from time to time. If you are currently experiencing this problem, read on to learn more about what Error Code 19005 means and how you can quickly fix it, so you can get back to exploring the vast universe of Star Citizen.
What is the Star Citizen 19005 error code?
Error code 19005 is an error message typically occurring when your credentials have not been verified. This causes your login attempt to fail ultimately.
There are several reasons for this error, such as game servers may be down, minor glitches, and network issues, among others. However, the most common cause seems to be server overload, especially when there is a large influx of people trying to join the game and the server is unable to handle it.
How can I fix the Star Citizen 19005 error code?
Before jumping into the solutions listed below, ensure your PC meets the minimum system requirements to run Star Citizen. Also:
Ensure that your internet connection is stable
Visit the official Star Citizen status page to ascertain whether the problem is coming from their end and not yours.
If you are still experiencing the problem, follow the steps below.
Table of contents:
1. Clear Cache
Clearing the cache forces Star Citizen to create new, updated files that can fix any issues caused by outdated or corrupted files. This could potentially fix Error Code 19005. To do it:
Open "file explorer" on your PC.
Go to the folder path where your Star Citizen Game is installed. The default path is C:\Program Files\Roberts Space Industries\StarCitizen\LIVE, but the path may vary depending on your installation location.
Once you have located the game folder, find and delete the "USER" folder.
Properly shut down your system, wait a few minutes, and then power it back on.
2. Reset the Hosts file back to the default
Resetting the host file can help resolve some connectivity issues. To do this on Windows 11:
Search for "Notepad" in the Windows search bar, then click or tap the Notepad icon to open it.
Copy the text provided in the instructions and paste it into the Notepad file.

# Copyright (c) 1993-2006 Microsoft Corp. # # This is a sample HOSTS file used by Microsoft TCP/IP for Windows. # # This file contains the mappings of IP addresses to host names. Each # entry should be kept on an individual line. The IP address should # be placed in the first column, followed by the corresponding host name. # The IP address and the host name should be separated by at least one # space. # # Additionally, comments (such as these) may be inserted on individual # lines or following the machine name denoted by a '#' symbol. # # For example: # # 102.54.94.97 rhino.acme.com # source server # 38.25.63.10 x.acme.com # x client host # localhost name resolution is handle within DNS itself. # 127.0.0.1 localhost # ::1 localhost

Click on "File" in the top menu, select "Save as" and type "hosts" in the "File name" box as shown in the instructions.
Save the file to your desktop, then close Notepad.
In the Windows search bar, type "%WinDir%\System32\Drivers\Etc" and click the "File folder" icon.
Right-click on the Hosts file, select 'Rename' and rename it to 'Hosts.old'.
Move the Hosts file you created in step 3 from your desktop to the %WinDir%\System32\Drivers\Etc folder. If you are prompted for an administrator password, enter it and click Continue.
3. Disable proxy
Time needed: 2 minutes.
Disabling the proxy enables you to directly access the web. To do this:
Press 'Win + I' on your keyboard to open Windows Settings.
Click on 'Network & Internet' and select 'Proxy'.

Uncheck 'Automatically detect settings'.

If you see any proxy profiles, delete them.
Restart your PC for the changes to take effect.
4. Disable firewall
In the Windows search box, type 'Windows Security' and press Enter.
Under Windows Security, navigate to 'Firewall and network protection'.
Click the 'Allow an application through the firewall' option.
Click the Change settings button.
Tick the boxes in the Private and Public columns for both Star Citizen and RSI Launcher.
Save the settings.
Restart your PC for the changes to take effect.
5. Reset the RSI Launcher
Open the RSI Launcher and press "Ctrl + Shift + Alt + R".
Click OK to reset the launcher.
Log in with your RSI account on the login page.
During authentication, select "1 day" in the "Trust this device" section.
Start the game to see if it works.
Extra Steps
Alternatively, you can also try the following:
Log out, close the application, and then try logging in again after some time.
Uninstall and reinstall Star Citizen
Conclusion
We hope this article helps fix the Star Citizen 19005 Error Code. Leave us a comment, question, or suggestion while letting us know what worked for you in the comment section below.
If you encounter any issues or errors while playing your favorite games and require support, feel free to contact us here. Our team is always ready to assist you and ensure your gaming experience is seamless and enjoyable.