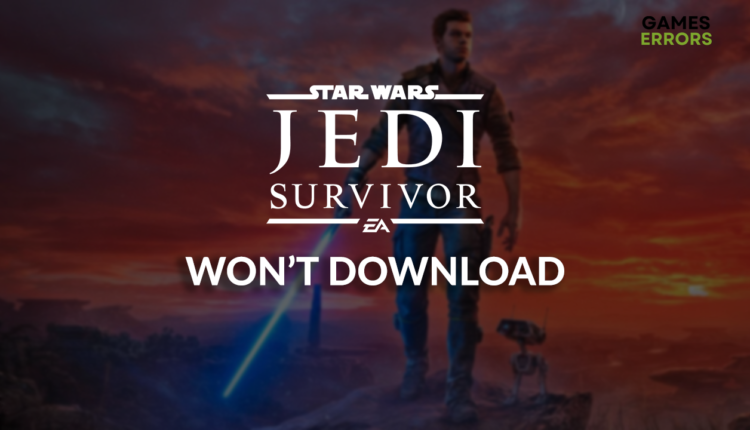 Star Wars Jedi Survivor Won't Download [Quick Fix]
You want to go into your space adventure, but Star Wars Jedi Survivor won't even download? No worries, we know the why's and how's! 👽
X
INSTALL BY CLICKING THE DOWNLOAD FILE
You are excited to go into the intergalactic adventure, but Star Wars Jedi Survivor won't download? This isn't surprising, as many gamers complain about the same issue. We can assist you in fixing all of the problems on your end. The only thing you can't influence is the server the game is downloaded from.
Why won't Star Wars Jedi Survivor download?
Star Wars Jedi Survivor won't download because you have slow internet, are using a wireless connection, have an outdated network driver, have unreliable DNS, or have misconfiguration with your network settings.
💡 Another potential issue can be a slow disc since games are downloaded and installed these days parallelly. If you are using HDD, we highly recommend you switch to SSD.
How to fix Star Wars Jedi Survivor won't download?
Begin troubleshooting by applying these quick checks and easy fixes:
Check your internet speed: Open the Google speed test and check your download speed. If this speed corresponds to what you get in Steam downloads, then the only solution is to upgrade your internet speed with your ISP. Otherwise, proceed with other solutions.
Use a wired connection: If you see a big difference in your general internet speed and what you get while downloading Star Wars Jedi Survivor, ensure you don't use a wireless connection. Wired (ethernet) connection is much more stable and faster and can boost the download speeds.
Disconnect other devices: Multiple devices may be connected to your home network, consuming most of the bandwidth. To solve this, disconnect other devices, or set the game to download overnight while other devices are not actively using the internet.
Fix the Star Wars Jedi Survivor download stuck problem by applying the solutions below.
1. Update the network driver
An up-to-date network driver is crucial for your network to work without interruptions. Without this, your network device doesn't know how to function, which will cause slow download speeds when you download Star Wars Jedi Survivor.
Click on the Windows icon, type Device Manager, and open it.

Double-click on the Network Adapters.

Right-click on your internet adapter and select Update driver.

Select the Search automatically for drivers.
Install the driver update.
Restart your PC.
If you don't want to experience network-related inconvenience anymore, we recommend using DriverFix. This driver updater tool will scan, monitor and update the network driver while you can focus on enjoying the latest game titles!
2. Use the Google DNS
Time needed: 4 minutes.
Windows will automatically connect you to the best DNS for your location. However, without much argument, we can claim that Google DNS is the best DNS to use in most cases. This is why we advise you manually add Google DNS.
Use the Windows Key + R shortcut to open the Run dialog, type control, and hit OK.

Choose View network status and tasks.

Click on Change adapter settings.

Right-click your internet network and select Properties.

Double-click Internet Protocol Version 4 (TCP/IPv4).

Enable Use the following DNS server addresses and add:

➡ 8.8.8.8 for the Preferred DNS server
➡ 8.8.4.4 for the Alternate DNS server

Hit OK and restart your PC.
3. Reset network settings
Some network settings are stored on your PC. If you experienced Star Wars Jedi Survivor downloading issues, it's an excellent opportunity to reset network settings.
Click on the Windows icon, type Command Prompt, and open it.
Type the following commands in separate lines and hit Enter after each one:
ipconfig /flushdns
ipconfig /registerdns
ipconfig /release
ipconfig /renew
netsh winsock reset

Restart your PC.
Extra steps
Are you still experiencing Star Wars Jedi Survivor downloading issues? If so, try to:
🔁 Restart the download: This doesn't mean you will lose the downloaded files! Pause the download in the Downloads section of Steam. Wait for the download speed to reach zero and start downloading again.
💡 Check your drive: Steam parallelly downloads and installs games on your PC. There is a chance that your SSD is slowing down the download progress. If you are using the HDD, this is more likely. Restart your PC, click the Windows icon, and type Defragment and Optimize Drives. Launch this tool and defragment the drive you are downloading the game.
⏳ Give it some time: There is a high chance that newly released games will be downloaded by many players across the globe. If nothing else solves your issue, wait and try downloading the game when servers are not that busy.
🚀 If you are no longer wondering why Star Wars Jedi Survivor won't finish downloading, then you can learn how to increase FPS in this game drastically.
Related articles:
Conclusion
We hope you removed the Star Wars Jedi Survivor downloading issues by following and applying the recommended solutions. Comment if you have any other problems or if you found a better way to troubleshoot Star Wars Jedi Survivor won't download issue.
If you encounter any issues or errors while playing your favorite games and require support, feel free to contact us here. Our team is always ready to assist you and ensure your gaming experience is seamless and enjoyable.