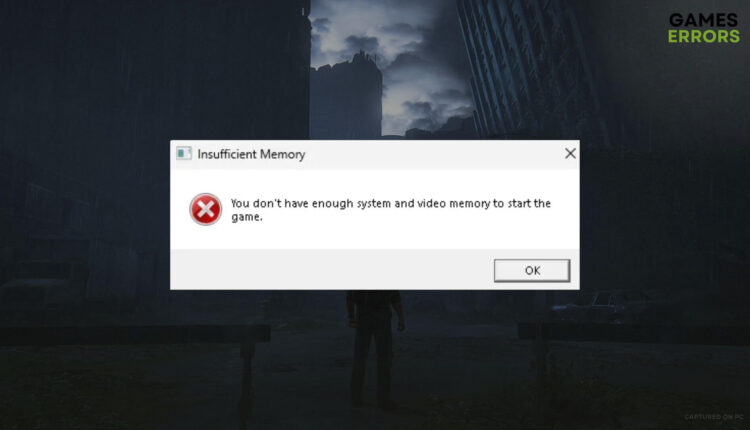 The Last of Us: You Don't Have Enough System and Video Memory to Start the Game [Fixed]
To solve The Last of Us insufficient system and video memory problem, try these fixes 🎮
X
INSTALL BY CLICKING THE DOWNLOAD FILE
If you cannot play The Last of Us on your PC just because of the error message, you don't have enough system and video memory to start the game, don't worry. This article will give you the solutions.
With stunning graphics, immersive gameplay mechanisms, and emotional storytelling, The Last of Us can be anyone's favorite game. Recently it has been released on PC. But, many gamers are complaining about various errors, including one not letting them play this title due to insufficient video memory.
Learn how to fix The Last of Us low GPU usage issue if needed.
Why is The Last of Us saying I don't have enough system and video memory?
Here are the most common reasons behind this problem:
Incompatible graphics card: If your GPU is not compatible, The Last of US will crash or stop working by showing a message indicating you don't have sufficient VRAM.
Problematic graphics driver: Incompatible or problematic graphics drivers can cause this problem in any type of game. It also may cause low FPS issues on The Last of Us.
Insufficient RAM: Even though you have the recommended 16 GB RAM, it still may not be enough in specific cases.
Excessive background services: Too many background activities can prevent The Last of Us from utilizing system resources which may be the reason you are facing insufficient memory problems on The Last of Us.
How do I fix The Last of Us saying I don't have enough system and video memory?
Before getting started, we suggest you do the following things:
Check if your PC meets The Last of Us's system requirements.
Ensure that you have not underclocked the GPU by using any tools.
Make sure that you have enabled high performance and game mode from the Windows settings.
Now, to fix you don't have enough system and video memory to start the game on The Last of Us, follow these methods one by one:
1. Update the graphics card driver
Time needed: 3 minutes.
To stop The Last of Us from saying that you don't have enough system and video memory, you should start troubleshooting by updating the graphics card driver:
Click on Search automatically for drivers and finish the updating process.
To update the GPU driver, DriverFix is an excellent tool that many pro gamers prefer. This small piece of software is capable of updating drivers more accurately, which helps to get rid of problems on any type of video game.
2. Reduce the background services
Right-click on the Taskbar and go to Task Manager.
Go to the Processes tab.
Select the process you want to disable and then click on End Task.
Disable all unnecessary tasks in the same way.
While stopping background tasks, disable the ones you are familiar with. If you kill an essential process, it may cause other problems. We suggest you disable tasks related to suspicious apps like Razer Synapse, screen capture tools, etc. It also will help to fix The Last of Us won't launch.
3. Reinstalling the GPU driver
Open the Device Manager.
Right-click on the GPU driver and click on Uninstall.
Restart your PC.
Visit to AMD, Intel, or NVIDIA driver download page.
Select your GPU model and click on Search.
Download the driver.
Install it.
Restart Windows.
4. Increase virtual memory
To fix you don't have enough system and video memory in The Last of Us, you may need to increase the virtual memory size by following these steps:
Open Run by pressing Win + I on the keyboard.
Type the following command and then click on OK: SystemPropertiesPerformance
Go to the Advanced tab.
Uncheck Automatically manage paging file size for all drives and tick Custom size.
Select the system drive and increase the Virtual memory size.

Save the settings and restart Windows.
Depending on various things, your PC may be using RAM for many other things, forcing it to utilize virtual memory. If there is a problem, games like The Last of Us will crash and show a lack of sufficient memory or similar messages. So, increasing the size will help to resolve this problem.
5. Upgrade your PC hardware
If nothing works, the best option is to upgrade the PC hardware. Particularly, if your GPU is not capable, you cannot expect The Last of Us to run on your PC. So, buy a GPU with sufficient computing power and enough VRAM to handle a game like this.
You should also consider upgrading and adding additional RAM if the current memory size is insufficient for The Last of Us Part 1.
If you are interested, learn what to do if The Last of Us is stuck on the loading screen.
This article has explained what you should do if The Last of Us says you don't have enough system and video memory to start the game. If you have any questions, let us know in the comment box.
If you encounter any issues or errors while playing your favorite games and require support, feel free to contact us here. Our team is always ready to assist you and ensure your gaming experience is seamless and enjoyable.