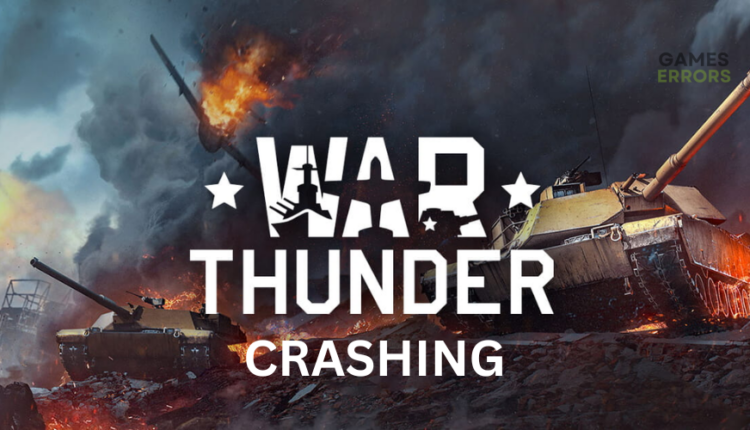 War Thunder Keeps Crashing: 4 Methods to Fix It Fast
War Thunder is an impressive combat video game and for the most part, it runs smoothly on Windows with stunning visuals and high-quality graphics. However, many players have reported that War Thunder keeps crashing on startup, during gameplay, or when connecting to the server.
The game crashing issue occurs unexpectedly and interferes with gameplay. If you're experiencing this issue, we have outlined some proven solutions that may help fix the problem so the game runs smoothly.
Why does War Thunder keep crashing?
War Thunder keeps crashing because your drivers might be outdated, improperly installed, or conflicting. However, there are many other factors that can contribute to the War Thunder crash issues, including:
Your PC doesn't meet the minimum and recommended hardware configurations
Conflicting background processes
Outdated game client
Problems with startup applications
Antivirus blocking the game and marking it as a threat
Conflicts with overlay apps
Outdated game versions
Issues with DirectX.
Overclocking and turbo-boosting issues
How do I fix War Thunder crashing?
To fix War Thunder crashing errors, perform these quick things first before diving into our troubleshooting steps:
Confirm your PC hardware configurations meet the system specifications to run War Thunder.
Restart your PC to refresh the system and eliminate bugs and glitches.
If your War Thunder keeps crashing on startup, when entering the server, or during gameplay, perform the following fixes:
1. Disable overlay apps
Apps, including games, have overlay programs that run in the background when the apps are launched. The overlay programs may trigger issues with gameplay and cause the War Thunder crash. To prevent this, disable overlay apps. Here's how to disable the Discord overlay app:
Launch the Discord app on your PC.
Click the gear icon in the bottom left corner.
On the left menu, select Game Overlay.
At the top, you'll see the Enable in-game overlay tab. Toggle it off.
Reboot your PC to save changes.
Relaunch War Thunder to see if it keeps crashing.
2. Update GPU drivers
Instead of manually updating your GPU drivers, download and install Outbyte Driver Updater to automatically update your GPU drivers. This saves you the hassle, time, and effort required to manually update your drivers.
⇒ Get Outbyte Driver Updater
3. Switch loading modes
Many players report fixing the crash problem by switching loading modes from fullscreen to windowed mode. Here's how to do this:
Open the Steam client and launch War Thunder.
On the top right side, click the cog icon.
Look for the tab labeled fullscreen. Click the drop-down menu and select the windowed mode.
4. Stop overclocking or turbo-boosting your PC
Many gamers overclock their PC to boost gaming performance. This process allows specific computing tasks to run faster and become optimized. However, overclocking or turbo-boosting your PC increases your hardware's temperature and power consumption. This results in overheating and stability issues that cause applications such as War Thunder crashing on startup. We recommend resetting the clock speed to its default settings to prevent overheating problems.
🚀Additional fixes if War Thunder keeps crashing:
If War Thunder crashes when connecting to the server, consider updating the game client
Disable Windows security programs like antivirus.
Update DirectX.
Perform system updates.
Delete the game's cache.
Set high performance in power options.
Set high priority in task manager.
Uninstall and reinstall the game as a last resort if all the other options to stop War Thunder randomly crashing don't work.
If War Thunder is crashing on startup, run the game in compatibility mode
Furthermore, if you encounter War Thunder crashes when connecting to the game server, consider checking your network connection, and then if there are problems, reset your router/modem, use a cable connection, or play the game on a different Wi-Fi.
Related War Thunder Articles:
Conclusion
The War Thunder crash on PC issue has plagued players for years. Luckily, with our troubleshooting guide, you can fix it and play smoothly. Remember to disable overlay apps, update GPU drivers, and switch loading modes. Additionally, stop overclocking or turbo-boosting your PC.