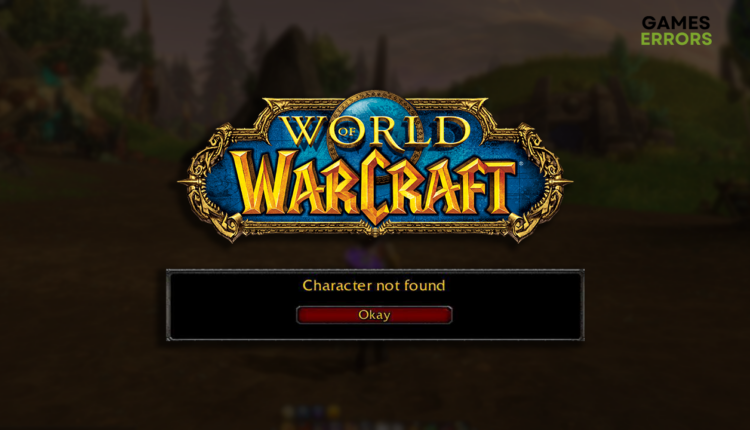 WoW Character Not Found: Why It Happens and What to Do
Most likely the problem isn't a lost character but technical issues. Learn how to fix them! 🚀
Seeing the WoW character not found error message can be terrifying for some players, significantly if they invested a lot of hours and resources into building the character. We are here to save the day! First, it's essential to know that the problem is likely on the server side and has nothing to do with your character missing.
Are you experiencing weird display anomalies when playing World of Warcraft? Learn how to fix WoW screen flickering.
Where did my WoW character go?
Most likely, your WoW character didn't go anywhere, yet it is not found due to technical issues. These issues can include temporary issues on your PC, Battle.net launcher, or network devices, an outdated network driver, faulty network settings, a weak wireless connection, compatibility issues due to background apps or antivirus blocking World of Warcraft.
What to do when a WoW character is not found?
Apply some quick checks and fixes to get going:
Restart your computer: This will ensure no temporary problems are causing character issues.
Log in to another character: After this, log in from your account again. Try selecting your main character after doing so.
Restart the Battle.net launcher: Close it entirely, and don't forget to exit from it in the taskbar. Relaunch it and open WoW.
Restart network devices: Find your modem or router and press the restart button from the back panel. Wait a couple of minutes and check your internet connection.
Proceed with solutions from the list below.
1. Update the network driver
Time needed: 5 minutes
If the character not found in WoW error is a result of a connection related issue, to ensure stable communication between your PC and the WoW server, you must have the latest network driver for your network adapter. This can be achieved manually using the Device Manager or automatically using a driver updater tool.
Click the Windows icon, type Device Manager, and open it.

Double-click on Network Adapters.

Right-click on your internet adapter and select Update driver.

Select Search automatically for drivers.
Install the driver update.
Restart your PC.
Get Outbyte Driver Updater and stop worrying about issues caused by an outdated network driver. This swift and reliable tool will handle the complete driver management process so you can enjoy WoW and other games interruption-free!
⇒ Get Outbyte Driver Updater
2. Restart network settings
Some of the network settings are stored locally on your PC. Since these can cause the game to miscommunicate with the game server, they could be the reason for your character issues. We advise you to restart them through Command Prompt.
Click on the Windows icon, type Command Prompt, and open it.
Paste the following commands and hit Enter after each one:
ipconfig /flushdns
ipconfig /registerdns
ipconfig /release
ipconfig /renew
netsh winsock reset

Restart your PC.
Extra solutions for World of Warcraft characters not found issue:
Here are some additional tips to avoid getting the WoW character not found error message:
🌐 Use a wired connection: For optimal gaming performance, you must use a wired connection via ethernet cable. This will prevent issues caused by a weak wireless connection.
❌ Close background apps: Close all apps visible in the taskbar and use the Task Manager to disable background processes before launching Battle.net and WoW.
🛡 Temporarily disable the antivirus: Your antivirus might block the game from properly communicating with the network. If so, whitelist it in the settings and re-enable protection.
Why can't I find my character on WoW armory?
You can't find your character on WoW armory because you either didn't login for a long time, or because there is a server delay. To fix this WoW character not found issue try to:
Login into the game with said character.
Stay logged for 10 minutes or more.
Log out and Exit the game.
Clear your browser's cache and try again, or use another browser.
Related articles:
Conclusion
Hopefully, when you select your character, you no longer see the WoW character not found error message. Solve the temporary issues by restarting the Battle.net launcher and WoW. Don't forget to fix your network on your PC by updating the network driver and restarting network settings.
Additionally, it's best to use a wired connection, close all background apps before launching the game, and check if your antivirus causes problems. Best of luck, and remember, the problem might be related to the server, and all you have to do is to wait a bit.