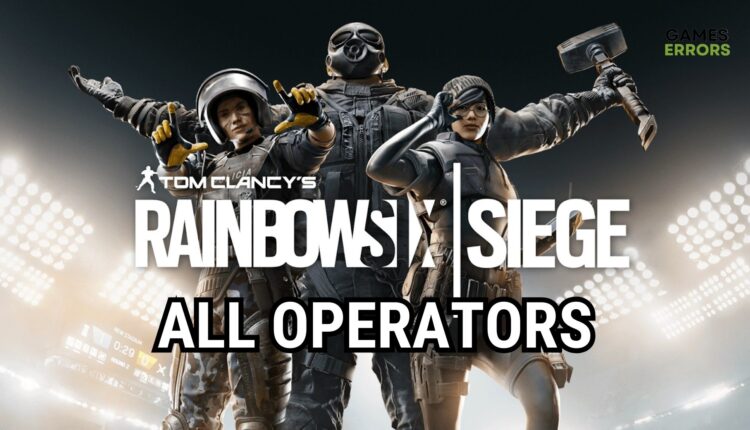 All R6 Operators: Check Their Backgrounds, Abilities & Traits
Today's comprehensive guide serves as the ultimate resource for all Rainbow Six Siege operators!🚀
Today we'll introduce you to all the Operators in Rainbow Six Siege (R6), each equipped with unique aptitudes, weapons, and gadgets.
Check our guide completely and learn about their backgrounds, abilities, load-outs, and strategies to gain a tactical edge on the battlefield.
What are the best R6 operators from all of them?🎮
Bo-Ram Choi (Ram) – Busan, South Korea – joined the esteemed 35th Commando Battalion (Tarantula), where she excelled in diverse tasks, including building clearance, hostage rescue, VIP protection, and advanced technology use in enemy assaults.
Choi's leadership qualities and protective nature make her a valuable asset. She maintains unwavering focus both in the field and during downtime, where she enjoys sketching with charcoal and listening to music.
🎯More main traits:
Exceptional resilience
Readiness and reliability
Mysterious early life
Emil Svensson (Fenrir) – Uppsala, Sweden – initially pursued animal biology but shifted his focus to physical fitness and tactical organization after mandatory service.
He excelled in neurochemistry, rose quickly in the Swedish Armed Forces, and served as a communicator in the Special Operations Group.
His dedication led to the development of strategies to enhance soldier performance. However, his attempt to create emotion-altering formulas led to discharge.
🎯More main traits:
Determination and ambition
Conviction – He firmly believes in the value of his research
Adaptability
Nayara Cardoso's (Brava) – Curitiba, Brazil – tragic childhood, marked by her cousin's death during a heist, led her to pursue a law degree.
Disillusioned with her role as a criminal prosecutor, she joined the Departamento de Polícia Federal (DPF). Rising through the ranks, she became a Federal Police Commissioner and specialized in high-risk interventions, particularly civil aircraft hijackings.
Her remarkable performance record in a critical mission involving her cousin earned her a place in Viperstrike.
🎯More main traits:
Strong sense of idealism
Strives for justice
Professionalism and commitment to her role
Ana Valentina Díaz (Solis) – Zipaquirá, Colombia – grew up valuing truth in a turbulent Colombia. Her protective instincts led her to join the National Police, where she balanced her passion for computers and literature with investigative excellence.
Recognized for exposing corruption among her peers, she transitioned to special operations, earning a place in the AFEAU.
🎯More main traits:
A deep responsibility to protect others
Dedication to self-improvement
Commitment to justice and the fight against corruption
Charlie Tho Keng Boon (Grim) – Jurong, Singapore – developed survival skills under his survivalist father's tutelage.
His journey led him to join Singapore's elite naval special forces, the NDU, and eventually excel in the Frogman School (FMS) before advancing to the Clearance Diving Group (CDG).
🎯More main traits:
Predatory Instincts
Professionalism and Adaptability
Operates with precision and adherence to rules
Néon Ngoma Mutombo (Sens) – Brussels, Belgium – grew up in a supportive family environment where they were encouraged to pursue diverse interests in psychology, physics, classical music, and mechanics. This upbringing led them to excel in tactical training and military sciences, eventually becoming a combat engineer.
Their specialization in devising strategies and technologies that minimize casualties while achieving objectives earned them several service medals. They caught the attention of the Belgian Special Forces Group, where they have served ever since.
🎯More main traits:
Analytical Insight
Warm and Open
Defiant Attitude
Kana Fujiwara (Azami) – Kyoto, Japan – navigates the blend of modernity and tradition. Fueled by a desire for self-expression, she delved into fashion and martial arts, excelling in Aikido. Later, she studied at the Metropolitan Police Academy in Tokyo, becoming a motorcycle officer.
With her impressive martial arts skills, she rose to 3rd Dan in Jujitsu and 5th Dan in Aikido. After a falling out with her sensei and a stint in the private sector as a bodyguard, she reconnected with Yumiko "Hibana" Imagawa.
🎯More main traits:
Commitment to her craft
Sense of personal honor
A deep desire for justice
Brianna Skehan (Thorn) – County Kildare, Ireland has a strong family tradition of horse racing and military involvement. Despite her challenging upbringing and competing with her five older brothers, she chose a career with horses and joined the Garda Síochána, Ireland's national police force.
Later, Thorn applied for the elite tactical branch, the Emergency Response Unit, excelling in training and earning her place as a tactical weapons expert.
🎯More main traits:
Strong sense of justice
Resilience and Perfectionism
Humor and competitiveness
Anja Katarina Janković (Osa) – Split, Croatia – was born into the Janković family, who owned European toy stores.
Anja pursued her passion for creation and technology by studying electromechanics and later military engineering at the University of Zagreb, where her expertise in robotics engineering set her apart from her peers. Kali noticed her unique talents during a recruiting trip to Croatia, leading to Anja joining Nighthaven.
🎯More main traits:
Meticulous Precision
Strong family bond
Unique perspective for work
Mina Sky (Thunderbird) grew up in Nakoda Territories, emphasizing community and balance. She excelled in military training and flight school, becoming an Aerial Medic in the Canadian Armed Forces.
Her Nakoda heritage is significant, and she values community, knowledge, and preserving her way of life. She combines her military and medical skills.
🎯More main traits:
Community-oriented
Balanced approach
Respect for life
Santiago Miguel Lucero (Flores) – Buenos Aires, Argentina – was dissatisfied with his job in the public sector and found military school uninspiring.
Lucero transitioned from criminal activity to a legitimate career thanks to Specialist Eliza "Ash" Cohen. He provided evidence against crime lords and pursued a new life in Los Angeles.
Despite his criminal history, Lucero is vocal about social issues and giving back to impoverished communities. He values family and maintains a balance between tradition and independent thinking.
🎯More main traits:
Complex background
Perfectionist nature
Social Consciousness
Apha Tawanroong (Aruni) – Ta Phraya District, Thailand – excels in quick thinking, judgment, and physical abilities, making her a versatile and deadly combatant. She is a skilled detective with a keen sense of awareness.
She leads a frugal life and donates to charities focusing on unexploded ordnance disposal and medical treatment for victims. Aruni is closely bonded with Hero, a giant pouched rat trained in demolition disposal.
🎯More main traits:
Mental and Physical Agility
Quiet Philanthropy
Rule-Bender for Expedience
Samuel Leo Fisher (Zero) – Baltimore, Maryland – is a highly skilled and disciplined agent who grew up in Towson, Maryland, with his grandmother. He attended a Military Boarding School and later joined the United States Naval Academy, majoring in Political Science.
He went on to become a Navy SEAL and served in various locations worldwide. Fisher's exceptional ability to complete missions at any cost earned him recognition. After receiving an award, he became an instructor at Little Creek Naval Base before joining the CIA.
🎯More main traits:
Discipline and focus
Reserved and Observant
Sense of duty
Håvard Haugland (Ace) – Lærdalsøyri, Norway – initially aspiring to be a pediatric surgeon, shifted to paramedic training due to his preference for practical work.
After serving in the Norwegian Armed Forces, he joined the Forsvarets Spesialkommando and became known for his daring rescue missions. He saved Kali's life during a UN operation in Somalia, leading to his recruitment into NIGHTHAVEN.
🎯More main traits:
Image-oriented
Surface-Level Persona
Loyalty and ambition
Thandiwe Ndlovu (Melusi) – Louwsburg, South Africa – developed a strong bond with her friend Elna Gardiner through their shared love for animals and a determination to combat poaching.
Ndlovu joined the South African National Defence Force to fund her field ranger training but was wounded in an ambush in the Central African Republic. She later left the military to help protect Hluhluwe-Imfolozi Park and, along with Elna, formed the Inkaba Task Force Anti-Poaching Unit.
🎯More main traits:
Efficiency and Precision
Compassion and Partnership
Resilience and Action
Saif Al Hadid's (Oryx) – Azraq, Jordan – early life remains a mystery, but he vanished for over fifteen years before reemerging in Jordan briefly. During his absence, he trained extensively in various combat skills. He eventually joined Jalal "Kaid" El Fassi's Fortress and became its unofficial second-in-command.
🎯More main traits:
Resilience and Endurance
Transformation and Stoicism
Difficulty Trusting Others
Nienke Meijer (Iana)'s – Katwijk, the Netherlands – passion for space exploration was nurtured by her mother's work on the Huygens probe.
Her albinism prevented her from becoming a fighter pilot, but she excelled in systems engineering, creating advanced contact lenses and topographical mapping software. Her desire to explore the cosmos led her to Rainbow after gaining attention from Elena "Mira" Álvarez.
🎯More main traits:
Intellect and Fearlessness
Resilience and Self-Assurance
Collaborative and Analytical
Ngũgĩ Muchoki Furaha (Wamai) – Lamu, Kenya – displayed exceptional underwater abilities due to an abnormal physiology. He joined the Kenyan Navy and became known for record-breaking freedives. He later joined NIGHTHAVEN for more flexibility and private diving opportunities.
🎯More main traits:
Abstract thinking
Deep spirituality
Unpredictable and Diffuse Nature
Jaimini Kalimohan Shah (Kali) – Amreli, India – faced obstacles when trying to join the military due to gender restrictions. She founded her own Private Security and Military Companies, amassing wealth and influence. Shah's ruthless reputation is balanced by her resourcefulness in aligning with the Indian government's needs.
🎯More main traits:
Ambitious and Arrogant
Ruthless Leadership
Boundary-Breaking Resourcefulness
Azucena Rocío Quispe (Amaru) – Cojata, Peru – started as an anthropologist focused on preserving Peru's cultural heritage. Her family's ties to early explorers influenced her.
After working in law enforcement and archaeology, she turned to guerrilla tactics against antiquities traffickers. Her dedication to protecting Peru led her to spend two decades in the jungle.
🎯More main traits:
Deep Connection to Heritage
Realism and Good Humor
Strong Bond with Fellow Operator
César Ruiz Hernández's (Goyo) – Culiacán Rosales, Mexico – life was marked by a bomb blast that killed his father and sister. His mother, with the help of Specialist Azucena Rocío "Amaru" Quispe, guided him away from trouble and encouraged his education.
He pursued a military career, excelling in various units, and later got involved in combating antiquities trafficking. Rainbow noticed his exceptional tactical skills.
🎯More main traits:
Humble and Optimistic
Thoughtful and Analytical
Valuable Team Member
Jack Estrada (Pulse) – Goldsboro, North Carolina – showed early aptitude in science. He joined the FBI's Biometrics Program, became an agent, and excelled in SWAT and the FBI Lab.
His high emotional intelligence led him to the FBI's Hostage Rescue Team (HRT) where he thrived in crisis management and behavioral biometrics.
🎯More main traits:
Enthusiastic and Inquisitive
Emotionally Intelligence
Team player
Jordan Trace (Thermite) – Plano, Texas – joined the Corps after high school. He later became an FBI agent, specializing in hazardous materials and SWAT. He excels at tactical leadership and research and development, particularly gadget upgrades.
Trace is known for his humor but faces grief and uses humor to cope. Also, he has strong social connections within Rainbow.
🎯More main traits:
Humorous and Sociable
Strong Tactical Leadership
Resilient and Resourceful
Gilles Touré (Montagne) – Bordeaux, France – started his law enforcement career as a uniformed police officer and later joined the GIGN. He's known for breaching techniques, combat engineering, and reconnaissance. When not with Rainbow, he works as an instructor at GIGN.
🎯More main traits:
Imposing presence
Protective Nature
Understated Confidence
Emmanuelle Pichon (Twitch) – Nancy, France – raised in an academic family in Nancy, France, excelled in Math, Science, and Technology. Her military career began early, with a focus on adaptable technology for soldiers.
Pichon's tactical and problem-solving abilities are highly regarded. She joined GIGN and later Rainbow, fluent in multiple languages, with a current focus on AI research.
🎯More main traits:
Technological creativity
Empathy and Compassion
Idealism and Human Factor
Gustave Kateb (Doc) – Paris, France – hails from a privileged background but chose a selfless path in medicine. Despite initial doubts, he found his passion for medical work during volunteer missions with Médecins Sans Frontières (MSF).
His experiences in conflict zones, like East Africa, drove him to embrace both medical and combat roles. Kateb's compassion, selflessness, and conflict-resolution skills make him a valuable asset to Rainbow.
🎯More main traits:
Emotional Resilience
Adaptability and Conflict Resolution
Compassion and Selflessness
Julien Nizan (Rook) – Tours, France – excelled in academics and sports, eventually joining the Gendarmerie.
His varied interests, from architecture to cycling, contributed to his unique skill set and versatility in law enforcement. Nizan's constant optimism and ability to energize others make him a well-liked team member, but there is room for him to channel his sense of adventure more effectively.
🎯More main traits:
Adaptability
Curiosity and Openness
Optimism and Team Player
Marius Streicher (Jager) – Düsseldorf, Germany – grew up with his mechanic uncle from the Bundespolizei Aviation Group, surrounded by engines. Although he showed promise in mechanics, his passion lay in flying and complex machinery.
He studied aeronautical engineering but found it restrictive. Streicher joined BPOL-Aviation Group to serve his country and design defensive weapon systems. His ground-based Active Defense System (ADS) prototype gained attention from GSG 9 and Rainbow.
🎯More main traits:
Strong sense of connection
Curiosity and Love for Learning
Creative and Energetic
Dominic Brunsmeier (Bandit) – Berlin, Germany – and his twin brother grew up near the Berlin Wall, with their father working in the police force. Dominic joined the Bundespolizei (BPOL), excelling in crisis situations.
He briefly transferred to the Aviation Group to obtain a helicopter license but was recognized for undercover work due to his adaptability and border surveillance experience. He infiltrated the Red Army Faction (RAF) and contributed significantly to arresting key members and providing valuable information.
🎯More main traits:
Sense of humor
Resourcefulness and Adaptability
Strong family bonds
Elias Kötz (Blitz) – Bremen, Germany – is a highly skilled Rainbow operator with a background in elite education and military service. Kötz is physically and mentally resilient, often prioritizing his team's safety over his own.
He has exceptional physical fitness and is open to testing his limits. Despite his humor, he takes his responsibility to protect his teammates seriously and maintains a close friendship with Specialist Lera "Finka" Melnikova.
🎯More main traits:
Jovial and Humorous
Selfless and Protective
Physical and Mental Resilience
🕵️‍♂️More R6 operators:
What operators in R6 are LGBTQ?🏳️‍🌈
Here is a list of the operators who have been confirmed to be LGBTQ and their sexual orientation:
Valkyrie (Briana Denson) – Lesbian
Flores (Santiago Lucero) – Gay
Osa (Natalia Kasumova) – Transgender woman
Sens (Néon Ngoma Mutombo) – Non-Binary
Who is the oldest operator in R6?👥
Zero, the eldest operator in R6 at 63 years old, specializes in gathering intelligence. His Argus Launcher deploys unique cameras that can be embedded in breakable and reinforced surfaces to monitor various angles.
🔍Related articles:
Mastering the diverse roster of all Operators in R6: Rainbow Six Siege is key to achieving victory. This comprehensive guide has introduced you to unique abilities, and strategies for success.
Whether you're a beginner or an experienced player, understanding Operator roles and synergy is crucial.