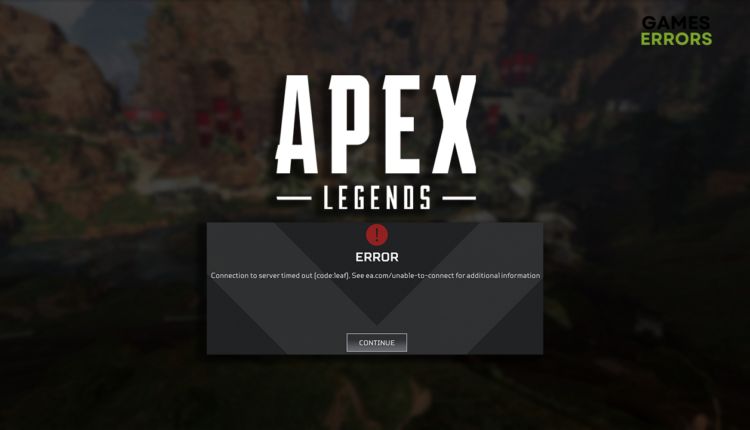 Apex Legends Code Leaf: Troubleshoot It Quickly
Network-related errors like this one are the worst! Many things can cause them, so you better start taking some action to fix it.🍂
X
INSTALL BY CLICKING THE DOWNLOAD FILE
A common network-related issue is Apex Legends code Leaf which can occur due to issues on your device. This is why we decided to investigate the problem and create this guide on the most common causes with suitable fixes to stop it from occurring.
Connection to server timed out [code:leaf]
If you experience latency issues while playing this first-person shooter, learn to troubleshoot high ping in Apex Legends.
What is error code leaf?
The error code leaf is a network-related error caused by poor internet connection, problems with devices managing your home network, temporary issues on your PC, an outdated network driver, problems with the game server, or other network-related settings on the device.
How to fix Apex Legends code Leaf?
Begin troubleshooting error code Leaf in Apex Legends with some quick checks and easy fixes:
Check the internet connection: Head to Google Speed test and check if the download and upload speeds are good. Pay attention to the ping, which shouldn't be more than 70ms.
Restart the network devices: Find your router or modem and press the restart button. It is usually located on the back panel of the device. Check the network after a couple of minutes.
Restart your PC: Apex developers recommend you restart your PC whenever you encounter network-related errors in this first-person shooter.
Proceed with the step-by-step solutions listed below.
1. Update the network driver
Time needed: 5 minutes
To ensure proper communication with the internet through your home network, you must have the latest network driver installed. This can be done automatically or manually through the Device Manager.
Click the Windows icon, type Device Manager, and open it.

Double-click on the Network Adapters section.

Right-click on your internet adapter and select Update driver.

Select the Search automatically for drivers option.
Install the driver update.
Restart your PC.
To install network driver updates automatically, use Outbyte Driver Updater. This swift and reliable driver updater tool will scan and monitor for any pending updates and install them when needed.
2. Change the game server
If the issue occurs due to a problematic game server, you can check if the game will work when you connect to another server. Always choose a server closer to your location.
Launch Apex Legends.
Press Tab or click the Data Center label in the main menu.

A new window will open in which you can select another server you want to connect to.
Choose servers with lower ping (XXXms).
Click on the Dismiss button and enter the Lobby to play the game.
3. Use a VPN
Some players report avoiding the Leaf error code by connecting to the game server through a VPN. This solution will be effective only if you use a reliable VPN provider, which will not influence connection stability and download/upload rates.
We tested multiple providers and discovered that ExpressVPN offered the best performance and perks. They offer locations worldwide, so you will most likely have a VPN server nearby, making the connection swift.
4. Restart network settings
Some network settings are also stored on your PC. If they are faulty, the connection will not be the best. This can be solved using a Command Prompt and pasting a few commands to restart the network settings.
Click on the Windows icon, type Command Prompt, and open it.
Right-click Command Prompt from the search results and choose the Run as administrator option.
If Windows asks for any additional permissions, allow them by clicking Yes.
Type in the following commands and hit Enter after each one:
ipconfig /flushdns
ipconfig /registerdns
ipconfig /release
ipconfig /renew
netsh winsock reset

Restart your PC.
Extra steps
If you still get the code Leaf and can't play Apex Legends, try to:
🌐 Use a wired connection: We recommend connecting to your home network using an ethernet cable. This will ensure a stable internet connection and cause fewer network-related errors.
👨‍💻 Run Apex Legends with proper permissions: Right-click on the executable game file, select Properties and navigate to the Compatibility tab. Enable Run this program as an administrator and hit OK.
Related articles:
Conclusion
These were to most suitable fixes for Apex Legends code Leaf. Comment with additional information about when the problem occurs so we can assist you in removing it, if it still persists.