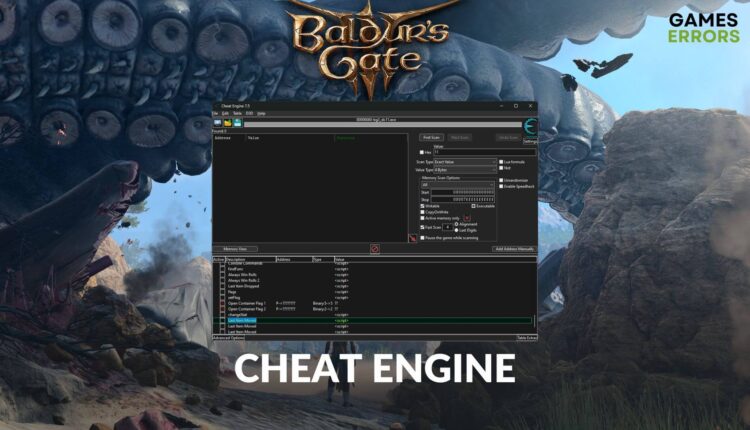 Baldur's Gate 3 Cheat Engine: How to Use It Properly
Wanna get unlimited items, movements, and other advantages on BG3? Checkout this comprehensive Cheat Engine guide to playing this RPG in your own way 💪
If you are looking for a Baldur's Gate 3 cheat engine guide and some necessary information, this article is the perfect source for you.
The Larian Studios' latest RPG, one of the most anticipated games and the second biggest Steam launch in 2023, BG3, is undoubtedly stunning looking and a rich game. However, there are many puzzles and challenges that are hard to solve. Developers have not introduced any cheat codes yet which makes it even more challenging for new gamers. So, you may want to use Cheat Engine on BG3.
To help you and satisfy your curiosity, we have featured a guide along with some helpful information that will enhance your experience with Cheat Engine and Baldur's Gate 3.
Learn how to solve Baldur's Gate 3 not launching if necessary.
📣 Friendly Advice: Before using any mod or cheat on Baldur's Gate 3, save your progress, and use F5 as much as you can before making big decisions or after winning fights.
What is Cheat Engine?
The Cheat Engine is an open-source memory scanner and debugger which is used for cheating on modern video games. It alters the memory values of active programs and games, which can have various impacts on these items.
Getting a massive amount of coins, unlocking game features, speeding up players, etc., are some common examples that this tool can do. Many users use this tool to learn computer programming in a better way too. But, mostly, they are using Cheat Engine for games like BG3.
How to use Baldur's Gate 3 Cheat Engine?
This tool is technical but very easy to use. However, before using it, you should ensure that you have disabled your antivirus program because some security tools may block this item's processes. You can use Cheat Engine on BG3 in two ways.
1. Cheat manually
Time needed: 5 minutes
If you want to play BG 3 and have unlimited cheating options, use the Cheat Engine by following these steps:
Visit the Cheat Engine download site, and download it for Baldur's Gate 3.

Now, look at the value, for example, health, in the game that you want to change and type it in the cheat engine and click on First Scan.

You may see tons of value. If you don't determine the exact memory address for health value, follow the next steps.

Now, type the new health value in the cheat engine and click on the Next Scan.
In this way, try finding until you can determine the correct record by seeing previous and current data that matches with the changed health values in the game.
Double-click on the correct record from the memory address list to add it to the cheat table in the Cheat Engine.
In this way, you can change any other values to manipulate things in this RPG.
Disclaimer: Make sure that you download the engine from our guide. In addition, you will need to use the latest versions of the cheat engine in Baldur's Gate 3. Otherwise, you might not be able to make it work.
Once you have created the table of multiple items, you can save it for future use. In this way, you won't have to search again.
Baldur's Gate 3 users can use Cheat Engine to spawn items, increase gold and XP, and cheat on the game in many different ways.
2. Use Cheat Engine by utilizing the already developed Baldur's Gate 3 Cheat Table by the community
Regardless, to change values and have unusual advantages in BG3, you will need to spend a lot of time and effort. To make things easier, there are some Baldur's Gate Cheat Table files available already. These can do the cheats on cheat engine in BG3 successfully. Follow these steps to learn more:
Visit Baldur's Gate 3 cheat download page on the Fearless community.
Then, download the bg3.CT file on your PC.
Open it by double-clicking on the downloaded file.
Select the game process and choose to keep the list.
Then, activate your desired cheats by toggling the checkboxes.
Play the game and verify if the BG3 Cheat Engine is working perfectly. The above CT file has the following console commands:
Add Gold
Add Permanent Tags to Player: Pet Pal, Comprehend Languages, Detect Thoughts, Hermit, Urchin
Add Spells
Add Experience
Companion Attitude
Companion Approval
Max Ability Stats
Extra Max Health
Extra Armor
Add All Resistance
Immune to Status Effects
Super Jump
Increase Carry Capacity
Dark Vision
Toggle Fog of War
Object Spawner (equipment, items, scenery, walls, etc.)
Respec Character
Rest Anywhere
Unlimited Movement
Unlimited Action Points
Unlimited Spell Slots
Unlimited Warlock Spell Slots
Unlimited Sorcery Points
Please keep in mind whether the checkboxes are checked or not. Also, when you click on them, the related Baldur's Gate 3 cheats will automatically get activated.
If you are looking just for a quick way to ease up the game a little, consider using the Cheat Engine to make use of the Baldur's Gate 3 gold cheat. From my experience, for Act 1, 10k gold should be enough. From Act 2 onwards, you will need more than 10k, but it will also make the game way too easy, so be mindful when you are using the BG3 gold cheat.
How to cheat in BG3 with mods?
Not only the cheat engine, but you can also cheat in Baldur's Gate 3 using mods. For this, NexusMods is an excellent source. Here are the instructions you will need to follow:
Visit the NexusMods website.
Find the BG3 cheat mods which are compatible with the current version of the game.
Download it according to the instructions you find on that website.
Then, install the mod by following the required steps mentioned on the particular mod page.
Each of these mods has a different purpose. You can use find Baldur's Gate 3 gold, XP, and other cheating feature in these mods.
As different mods have different installation instructions, we have not featured any general steps here. So, you should strictly follow the recommended steps officially mentioned by NexusMods.
Also, you can watch our YouTube video guide to make a complete overview of how to use cheat engine in Baldur's Gate 3 efficiently:
Can you cheat in Baldur's Gate 3 with trainers?
Yes. You can also cheat in BG3 with trainers. In fact, it's easier to use trainer tools compared to the Cheat Engine. With a user-friendly interface and simple layout, you can toggle the switch on or off and type particular game feature values on such tools, which is much easier than CE.
One such Baldur's Gate 3 trainer is WeMod. This is one of the most popular and useful tools available for this RPG. Plus, it supports most other modern games as well. To use this item, follow these steps:
Go to the WeMod official website.
Download and install it on your PC.
Open it and sign in with your credentials.
Select Baldur's Gate 3 from the list and go to it.
Launch the game.
Now, toggle the options you want to activate in the game.
Enjoy the gameplay.
Currently, this app supports these cheats on Baldur's Gate 3:
God Mode
Unlimited Movement/Action
Items Do't Decrease
Ignore Weight/NoOverburden
Unlimited Exp
Exp Multiplier
Edit Strength
Edit Dexterity
Edit Constitution
Edit Intelligence
Edit Wisdom
Edit Charisma
Roll Dice Always Succeed
Set Game Speed.
If you cannot use these cheats on BG3, relaunch the game from WeMod. It will work.
Can you use console commands in BG3?
No. You cannot use console commands in Baldur's Gate 3 in the normal way. The full-release version of this game does not have this feature yet. So, to get a more customized experience, try to use the Cheat Engine in BG3 or other third-party tools such as WeMod. For now, they are the only option, and it is uncertain if console commands will be added later on.
Having performance issues on this game? Learn how to solve low FPS problems on Baldur's Gate 3.
Related Articles featuring problems which might appear after using cheat engine in Baldur's Gate 3:
Final Thoughts:
The above guide has shown how to use Cheat Engine and other tools on BG3 in 2023. As the game is constantly getting updates, some of the cheats may not work. So, always look for the CT file in the trusted community or manually achieve the desired functionalities or use a trainer mentioned in this post. If you have any questions, let us know in the comment box.
If you encounter any issues or errors while playing your favorite games and require support, feel free to contact us here. Our team is always ready to assist you and ensure your gaming experience is seamless and enjoyable.