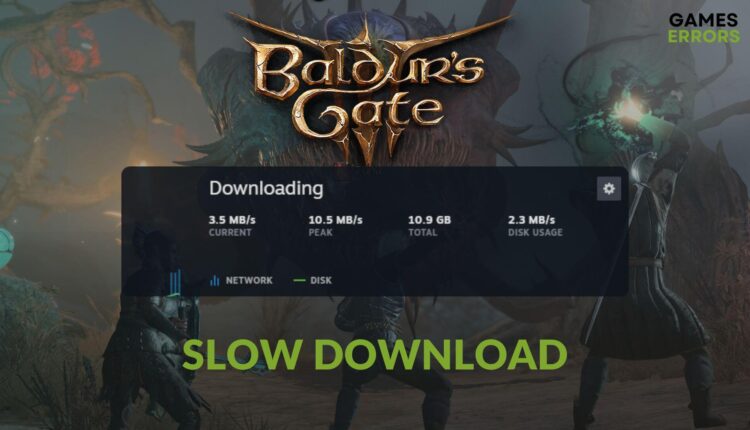 Baldur's Gate 3 Slow Download Speed: How To Force It
Can't wait to explore the forgotten realm in Baldur's Gate 3, but slow download speed is preventing you from doing it? Learn how to resolve this issue from this post ✅
A lot of gamers are experiencing slow download speed while installing Baldur's Gate 3. This issue has become a headache in the community. If you want to fix it, go through the suggestions featured in this post.
Undoubtedly, Baldur's Gate 3 has already got its place in the industry. After getting released, a vast number of users have downloaded this title. It's still continuing. But, the download speed is not up to the mark for some.
Why does Baldur's Gate 3 take so long to download?
Baldur's Gate 3 takes so long to download because you might be using an old router or a Wi-Fi connection to download the game. Additionally, you might be too far from the router, or your ISP could be throttling. Also, if you don't live alone, there could be multiple people using various devices connected to the Wi-Fi. However, if you have none of the problems above and still can't download Baldur's Gate III or it's downloading very slowly, below you will find more reasons why this issue occurs:
Server overloaded: As BG 3 has created hype in the industry, many users are downloading this item which has been stressing the server too much. As a result, you may experience poor download speed.
Network problem: Your internet connection and other network settings significantly affect download speed. If there is a problem, Baldur's Gate 3 won't download, or the rate will be meager.
Third-party apps: Some third-party apps may block bandwidth or have too many bandwidth-hungry services active in the background. It is causing BG 3's slow download speed.
How can I make Baldur's Gate 3 download faster?
You can make Baldur's Gate 3 download faster by using a cable connection and a high-speed network. Additionally, you could try to access less crowded servers in different regions, and you'll find how to do this below. However, there are many other options available, so before taking the main actions to speed up BG 3's download speed, we suggest you take these initial steps:
Power-cycle your router and PC.
Disable any proxy and ensure that the internet connection is stable.
Check the Steam server status and make sure that everything is OK.
If the problem still exists, follow these four methods to have a faster download speed while installing BG3:
1. Use a different download region
Time needed: 1 minute
Using a different download region in Steam is the most successful method to solve Baldur's Gate 3 slow download speed problem.
Change the Download region to somewhere else, preferably where BG3 has less possibility of being a trendy game.

Relaunch Steam.
Now, download the BG3 again and see whether the speed is still stuck at zero or low values or not.
2. Use a better DNS
Sometimes, using a better DNS like Google DNS can solve slow download rate issues while installing games like BG 3. Here are the instructions to follow:
Press Win + I on the keyboard to launch Windows Settings.
Select Manual.
Enable IPv4.
Restart your PC.
This method will also help if you are going through Baldur's Gate 3 not saving problem.
3. Update the network driver
Updating the network driver may help to boost the download speed while installing BG 3. To do it, follow these steps:
Press Win + X on the keyboard and then go to Device Manager.
Expand the Network Adapters category by double-clicking on it.
Right-click on your network driver and click on Update driver.
Select Search automatically for drivers.
Complete the process by following any additional onscreen steps.
Restart your PC.
While you are at it, you can also update your graphics drivers for better gameplay and performance.
The Outbyte Driver Updater is a very effective tool to update network drivers or any other drivers on a Windows 11 or 10 PC. Compared to the device manager, it has many more powerful features you may like.
⇒ Get Outbyte Driver Updater
4. Reset the network settings
To solve deficient download speed while installing Baldur's Gate 3, reset the network settings, as shown below:
Go to Windows Settings like before.
Go to the Network reset option.
Click on Reset now.
Restart Windows.
5. Clear Steam cache
The Steam cache could hold up faulty files, and this might be the reason why Baldur's Gate 3 won't download. However, it is quite easy to get rid of the corrupted download cache on Steam. Follow the instructions below to learn how to do it.
Open Steam and press the Steam button situated at the top in the left corner and click on Settings.
Go to the Downloads tab and look for the Clear Download Cache, it should be at the bottom of the list.
Press Clear Cache and you're good to go.
Now, try again and see if Baldur's Gate 3 won't download or slow download speed still exists.
Additional methods to try if Baldur's Gate 3 is taking forever to download:
Close unnecessary background apps: Unnecessary background apps could increase Baldur's Gate 3 download time, and the best way to deal with this issue is to close them. Also, by closing them you can improve your pc performance while gaming.
Verify the game files: While it is not a great solution if you are having problems with the Baldur's Gate 3 won't download issue, it could help you reinstall the game if you had it previously.
Use a VPN: While it might not help you with the download speed all the time, a VPN could at least help you fix some of the Baldur's Gate 3 won't download error.
Install the game on another Drive: This solution worked for me. I tried installing it in my games drive (E:) and it failed, so I did what I almost never do and installed it in Program Files, and like that, I fixed the Baldur's Gate 3 download issues.
Disable the firewall temporarily and your antivirus too: The Windows firewall and the antivirus can sometimes confuse the game with a malicious program. When it happens, some of the normal processes might be limited, and because of this, you might be unable to download Baldur's Gate 3.
How long does it take to download Baldur's Gate 3?
Usually, it doesn't take long to download BG 3. Under normal circumstances, it might take around half an hour, or maybe more or less, assuming that you have a 100 Mbps speed. However, when the Baldur's Gate 3 Slow Download Speed issue occurs, it might take more than 2 hours.
Related Baldur's Gate 3 Articles:
Final Thoughts
You can also consider using ExpressVPN or any other VPN you prefer or a different network connection to see if it helps. We also suggest you update Steam and try to install this fantasy RPG on a different SSD. Then, see what happens.
This article taught you how to fix Baldur's Gate 3 slow download issues. If none of the methods work, you can wait and see what happens. Then download it at a different hour. Have you any better suggestions? Share them in the comment box.