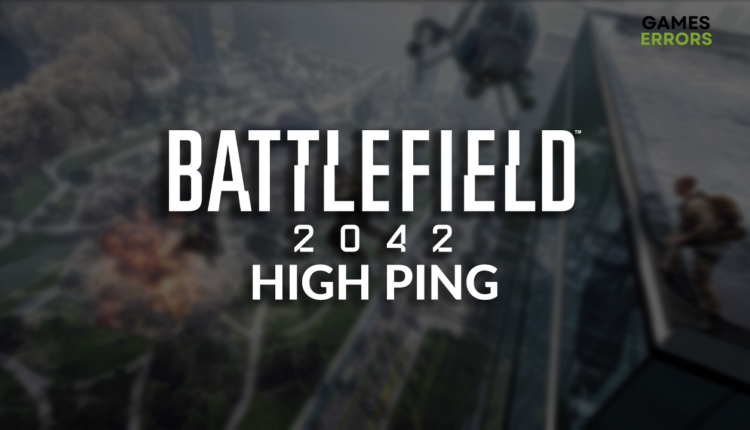 Battlefield 2042 High Ping: Fix It Quickly
First-person shooters are designed to react at the moment. Otherwise, you won't go far. If the latency prevents you from performing, learn what's wrong with your BF2042! 👾
Many gamers complain about Battlefield 2042 high ping and how it ruins their gaming experience. This is why we decided to find the most frequent causes and resolutions for this annoying issue. Apply our solutions to enjoy BF 2024 with a decent latency!
If you can't even launch the game, learn how to force-launch Battlefield 2042.
Why is my ping so bad in Battlefield 2042?
Your ping in Battlefield 2042 is bad due to server maintenance, temporary problems on your network, poor wireless connection, unreliable DNS settings, an outdated network driver, problematic network settings, bandwidth-consuming startup services or background apps, OneDrive cloud synchronization, or corrupted game files.
How to fix Battlefield 2042 high ping?
Get started by applying some initial checks and fixes to ensure everything runs smoothly:
Check for server maintenance: EA (the company behind BF2042) announces all (un)planned server maintenance that can cause high ping on their Battlefield Comms Twitter account.
Restart network devices: Find your modem or router and press the restart button, usually located on the device's back panel. Check your internet connection afterward.
Use a wired connection: Although very convenient, a wireless connection often results in higher ping. Connect your PC directly to the network through an ethernet cable.
Here is the list of solutions for troubleshooting Battlefield 2042 high ping.
1. Change the DNS
Time needed: 3 minutes
DNS routes your connection to the EA servers. Although Windows automatically assigns you a DNS, we advise you to change this setting to Google DNS manually.
Using the Windows Key + R shortcut, open the Run dialog, type control, and hit OK.

Click on View network status and tasks.

Click on the Change adapter settings.

Right-click the internet network you use and select Properties.

Double-click Internet Protocol Version 4 (TCP/IPv4).

Enable Use the following DNS server addresses and add:

▶ 8.8.8.8 for the Preferred DNS server
▶ 8.8.4.4 for the Alternate DNS server

Click OK and restart your PC.
2. Update the network driver
The network driver is the software responsible for managing your network adapter. If it is missing or gets outdated, there is a chance it will do poor work. This is why checking for network driver updates regularly is essential, so head to Device Manager.
Click on the Windows icon, type Device Manager, and open it.

Double-click on the Network Adapters section.

Right-click on your internet adapter and select Update driver.

Select the Search automatically for drivers option.
Install the driver update if the Update Driver Wizard finds one.
Restart your PC.
There is a quicker way to manage driver updates! Start using the Outbyte Driver Updater to delegate the complete process and enjoy an interruption-free gaming experience in Battlefield 2042 and other favorite games.
⇒ Get Outbyte Driver Updater
3. Restart network settings
Specific network settings are handled and stored on your PC. If they get misconfigured, you can quickly restart them and ensure you get the best connection to your home network.
Click on the Windows icon, type Command Prompt, and open it.
Paste the following commands and hit Enter after each one:
ipconfig /flushdns
ipconfig /registerdns
ipconfig /release
ipconfig /renew
netsh winsock reset

Restart your PC.
Extra steps
If you are still struggling with Battlefield 2042 high ping, try to:
💽 Perform a Clean Boot: This includes disabling any startup services that can cause issues.
☁ Disable OneDrive: Many players report that OneDrive and other cloud software save cache files online. This creates a huge mess, so we advise you to disable these features, at least for BF2042.
❌ Disable background apps: This way, you will prevent unnecessary bandwidth consumption.
🌐 Use an alternative network: If you notice other problems with your network, connect to another one. If your phone has a good 4G or 5G signal, you can test it using a mobile hotspot.
📂 Verify game files: This is a quick way to check if all game files are in place. If the system doesn't repair it, the last option is to reinstall Battlefield 2042.
Related articles:
Conclusion
In conclusion, before doing anything about the Battlefield 2042 high ping on your PC, check if the servers are available, restart network devices, and use a wired connection. Updating the network driver, changing the DNS to Google DNS, and refreshing the network settings can also improve your ping.
Some additional methods for fixing latency in BF2042 include performing a Clean Boot and disabling OneDrive for this game and its files. Additionally, you should ensure no background apps are running before launching the game. If you still experience problems, try using another network.