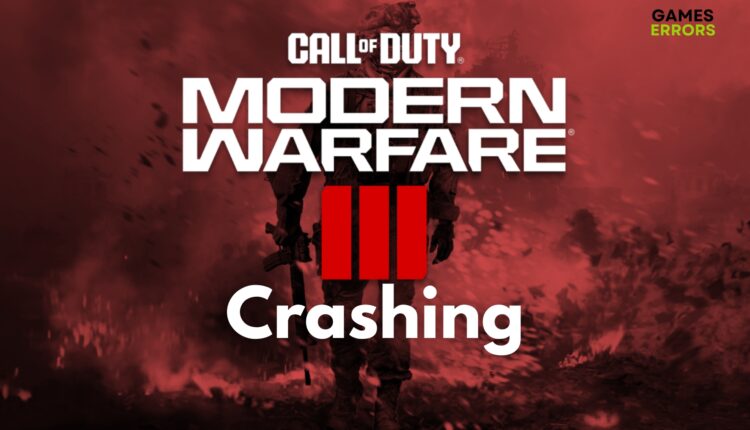 CoD MW3 Crashing: How to Fix It in No Time
If you are tired of MW3 crashing randomly during startup, while you are playing, or on the loading screen, don't worry. Below, you will find all of the solutions that I tested and worked on my devices.
If you're like me, there's nothing more frustrating than getting pumped up for an action-packed round of Call of Duty: MW3, only for the game to crash on you. I feel your pain. MW3 crashed randomly too many times during the loading screen while I was playing and sometimes even at launch. That's why I've put together this guide filled with tried-and-true troubleshooting steps to get you back in action.
Table of Contents:
Why Does Call of Duty Modern Warfare 3 keep crashing?
Call of Duty: Modern Warfare 3 keeps crashing mainly due to outdated graphic drivers that could be functioning improperly or cause driver conflicts. Unfortunately, they are not the only reason why CoD MW3 crashes. I figured out that this issue could also be the result of various other reasons, such as:
System Requirements: If your system doesn't meet the minimum requirements, you'll likely run into stability issues.
Corrupted Game Files: Sometimes, game files get corrupted and cause the game to crash. I had this problem multiple times in the past with various games. Unfortunately, there are many causes that could lead to this problem. I remember that one time I closed an ongoing game installation just to start it again a few hours later and this happened.
Software Conflicts: Other running applications or services might conflict with the game, leading to crashes. This commonly occurs when one or more applications are using the same drivers to run.
In-Game Settings: If you are like me and you prefer playing games on the highest graphics settings possible, know that some graphics or audio settings within the game might not be compatible with your system, causing it to crash.
System Configuration: Sometimes my system settings and the third-party software messed with the MW3 stability.
How to fix MW3 crashing?
To fix the Call of Duty Modern Warfare 3 crashing problem, I first tried to update everything on my device, from my OS to my drivers. It fixed the problem for a while until I purposely reverted them to try other methods, too. I will leave below a list of pre-checks that you should follow to fix the problem in no time. However, if they don't work, use the solutions that follow.
Pre-Checks
First, let's cross off some quick basics:
System Requirements: I always double-check the rig I'm playing on against the Modern Warfare 3 system requirements.
Game Updates: I make sure my game is updated to the latest version.
Windows Updates: I check for any pending Windows updates and install them.
Virus & Threat Protection Scan: Just to be safe, I run a full system scan.
---
Software Solutions
The first methods I tried to fix the game were software-related, and they worked efficiently and quickly, so I will leave them below. Try them all before proceeding to the next steps.
Update Graphics Drivers
I head to the manufacturer's website to grab the newest drivers for my GPU. Then, I installed it and restarted my device to ensure it worked properly. This fixed my MW3 crashing problem for good. However, there is another way in which you can update your graphics drivers manually, and I've been using it for over a decade. Follow my instructions to get to it:
Press Win+x then open the Device Manager
Go to the Display Adapters tab
Right Click on your GPU driver and press Update Driver
Press on Search Automatically for Drivers
And that's it, restart your device
Tip: I highly recommend you download the driver from your manufacturer's site and uninstall the previous version manually to make sure that there are no driver conflicts.
Verify Game Files on Steam
I like that Steam has an integrated verify game files button that is easy to access, allowing me to go back to playing in no time instead of having to reinstall Modern Warfare 3 every time the files are corrupted, missing, or faulty.
Navigate to my game library.
Right-click on Modern Warfare 3.
Go to Properties and to the Local Files tab.
Click on Verify Integrity of Game Files.
Test the game to see if it works.
Close Unnecessary Applications
I press Ctrl + Shift + Esc to open the Task Manager and close unnecessary background services and applications that might affect the integrity of MW3.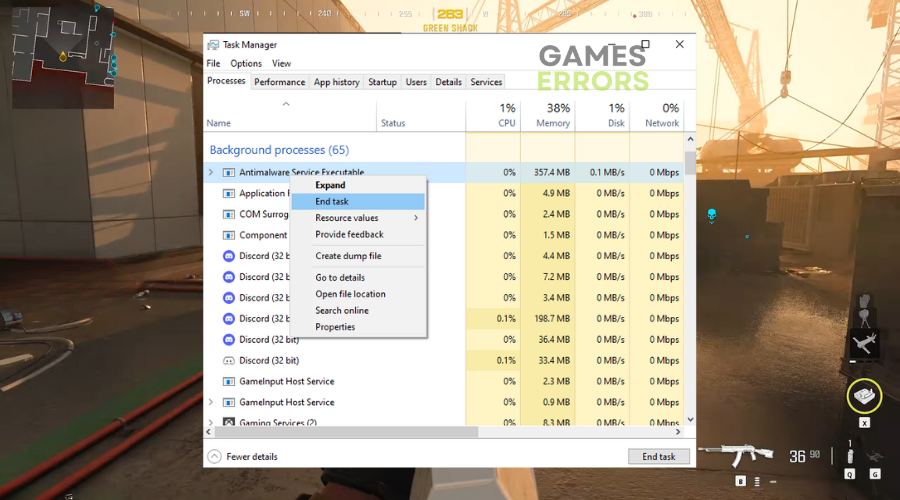 Run the game as Administrator
I run most games as an administrator because that usually sorts out any permission issues, especially on new games like MW3. If it works for you, too, you can set MW3 to run as administrator permanently by following the steps below:
Right-click on the game and select Properties.
Go to the Compatibility tab and select Run this program as an administrator.
Additionally, while I am doing this, I like to disable the fullscreen optimizations.
Tip: If the game still crashes, consider running it in a compatibility mode for a previous version of Windows. It also fixed the problem for me.
Disable Overlays
I go to the Nvidia Control Panel (or AMD Radeon Settings, depending on my device's GPU), and I turn off any in-game overlays to reduce system load. Additionally, I turn off the Steam, Twitch, and other overlay applications too.
---
Hardware Solutions
For me, it was a bit tricky to deal with the hardware solutions because they are a bit time-consuming and you need to have enough resources to work through them.
Upgrade RAM
If my machine's slowing down, I consider getting more RAM. But before doing so, I make sure it's compatible with the slot it goes into, according to the manual.
Check Cooling System
I open up the computer case, blow out any dust, and ensure all fans are spinning as they should. On one of my other devices that has an alternative liquid cooling system, I change it frequently when I notice temperature-related errors.
You can also use Task Manager and other software to check your internal temperature. I use a combination of Task Manager and Fortect.
Reconnect Cables
I power down the system and make sure all the internal and external cables are properly connected.
Test Another Display
When all else fails, I plug my system into another monitor. Sometimes, the issue isn't with the computer at all but with the display. I am using a HP 25f, and I don't recommend them at all. Someone got it for me a long time ago, and I couldn't part ways with it. However, it only has 75 Hz, barely works, and it doesn't have a display port, which can boost the performance a lot.
---
System Configurations
If nothing has worked so far, try some quick system configurations. They worked for me, but I still encountered some minor issues.
Lower Graphics Settings
I go to the game's settings and drop the graphics quality. Sometimes, sacrificing a little quality for performance is worth it. This method also fixed the MW3 crashing issues on one of my older devices.
Optimize System for Performance
Navigate to the Control Panel.
Go to System and Security and then to Power Options.
Choose High Performance.
If the option is not available, go to the left and create a power plan featuring the High Performance.
Click on next until you are done.
Tip: Do not overclock your PC unless you know that your processor is able to handle the load. Additionally, do not force the game booster to work.
Update DirectX
I downloaded the newest DirectX right from Microsoft's website and installed it. You don't have to uninstall the old one because it will just get replaced by the new one anyway.
Check the Game Configuration File
I found the game's config file and tweaked settings like resolution and window modes. This solution works, and it is the one I'm using frequently when MW3 crashes on the loading screen.
---
Related Articles:
Below, you will find some more fixes and solutions that I tested for some other commonly encountered MW3 issues.
---
Conclusion
And that's a wrap! I really hope these tricks help you out like they've helped me. There's nothing like the thrill of victory, and a smooth-running game is essential for that. Keep in mind that the quickest solution to fix the game is to update everything possible and then to repair your game files at least once every two months. If you've got any other tips or tricks, let's share the knowledge. Catch you all on the battlefield!