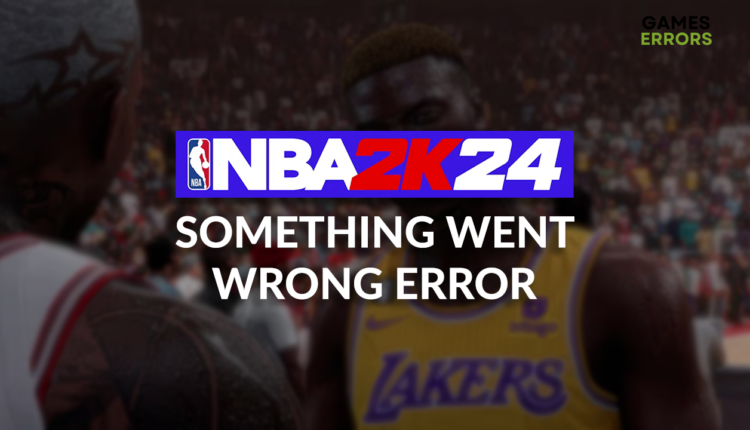 NBA 2K24 Something Went Wrong Error [Solved]
Error codes are usually very specific, but this isn't the case with this one. Let's see how to fix it! 🏀
Many basketball simulation fans are disappointed to see that the NBA 2K24 something went wrong error is preventing them from enjoying this fantastic game. We are here to help you out by providing the most reliable solutions to apply on your PC or PS5 to resolve this annoying issue.
If you also struggle with poor performance, learn to boost FPS in NBA 2K24.
Why do I get the NBA 2K24 something went wrong error?
You get the NBA 2K24 something went wrong error due to temporary issues on your PC or network devices, unreliable DNS settings, an outdated network driver, unnecessary background apps, obsolete Windows, or corrupted NBA 2K24 game files. For PS5 users: this error occurs due to temporary issues on the console, license problems, pilled-up cache files, or outdated PS5 software.
How do I fix NBA 2K24 something went wrong error?
Here are some quick fixes to get you going:
Restart your device: Regardless if you are on a PC or PS5, restart the device and rerun the game.
Restart your network devices: Find your network device (router or modem), hit the restart button on the back panel, and wait until the network restarts.
These are the most reliable solutions for the NBA 2K24 something went wrong error.
1. Use Google DNS
Time needed: 5 minutes
Instead of allowing Windows to connect you automatically to a suitable DNS server, we advise you manually switch to the Google DNS.
Using the Windows Key + R shortcut, open the Run dialog, type control, and hit OK.

Click on View network status and tasks.

Click on the Change adapter settings.

Right-click the internet network you use and select Properties.

Double-click Internet Protocol Version 4 (TCP/IPv4).

Enable Use the following DNS server addresses and add:

▶ 8.8.8.8 for the Preferred DNS server
▶ 8.8.4.4 for the Alternate DNS server

Click OK and restart your PC.
2. Update the network driver
Network driver manages your network adapter and communication between your PC and home network. Head to the Device Manager to update it to the latest version.
Click on the Windows icon, type Device Manager, and open it.

Double-click on the Network Adapters section.

Right-click on your internet adapter and select Update driver.

Select the Search automatically for drivers option.
Install the driver update if the Update Driver Wizard finds one.
Restart your PC.
If you are tired of updating drivers manually, start using Outbyte Driver Updater. This tool scans, monitors, and updates drivers so you can sit back and enjoy quality gaming.
⇒ Get Outbyte Driver Updater
Extra steps
Some gamers might still experience the NBA 2K24 something went wrong error. If you are one of them, try to do the following:
❌ Close background apps: This will prevent compatibility issues caused by unnecessary apps.
⬆ Update Windows: Click the Windows icon, type Check for updates, and open these settings. If any updates are available, install them and restart your PC to complete the process.
🌐 Use an alternative network: We advise using another network if you experience general connectivity issues. Ideally, you will connected through an ethernet cable.
📁 Verify game files: This is a quick alternative to reinstalling the game.
🔁 Reinstall NBA 2K24: The last resort is to uninstall NBA 2K24, restart your PC, and perform a clean game installation through your game distribution platform.
Fix NBA 2K24 something went wrong error on PS5 🎮
If you are experiencing this error on your console, apply the following fixes:
Restore Licenses: Open User & Accounts in PS5 settings, select Other from the sidebar on the left and choose the Restore Licenses option. Confirm and wait until the process is completed.
Clear the console cache: Turn off your PlayStation 5, open the Safe Mode, and find the Rebuild Database & Clear Cache option.
Update your PS5: Go to Settings, choose System, and check if an update is available under System Software Update and Settings. If so, initiate the update and wait until it completes.
Related articles:
Conclusion
In conclusion, the NBA 2K24 something went wrong error can be resolved by restarting your device and the home network. If the issue persists, change the DNS settings and update the network driver. Don't forget to close background apps, update Windows, and try using an alternative network. It's worth mentioning that this problem can occur due to corrupted game files, so ensure you check the integrity and, if needed, reinstall the game.
PlayStation 5 users can resolve this problem by restoring licenses, clearing the console cache, and updating the console software.