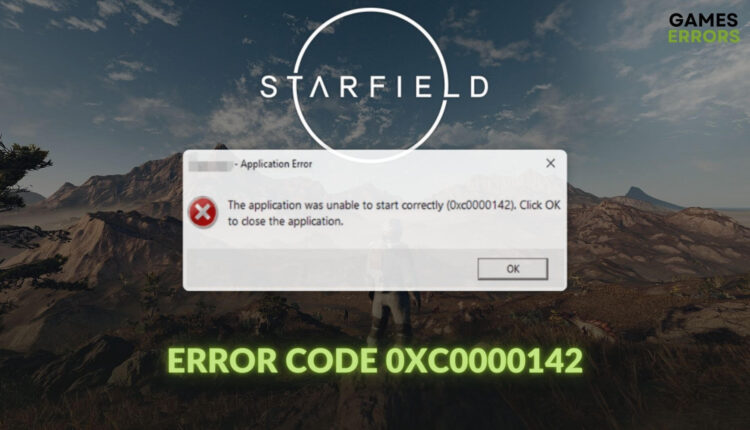 Starfield Error Code 0xc0000142: How to Fix [Updated]
Is the code 0xc0000142 preventing you from launching Starfield on your PC? You can quickly fix this issue by following the methods featured in this article 👇
X
INSTALL BY CLICKING THE DOWNLOAD FILE
Some users may not launch Starfield due to the error code 0xc0000142 on their PC. If it keeps happening, don't get panicked, as there are very successful methods to fix it. I've encountered this error too a few weeks ago, but I managed to fix it by following the solutions below.
Starfield.exe – Application Error

The application was unable to start correctly (0xc0000142). Click OK to close the application.
Learn how to solve stuttering or freezing issues on Starfield if necessary.
Why is Starfield showing application error code 0xc0000142?
The application error code 0xc0000142 is showing in Starfield, mainly due to outdated drivers. However, there are also other common reasons behind the error code 0xc0000142 that appears while opening Starfield:
Outdated components: If the operating system and its core components are extremely outdated, this error may pop up and prevent you from running Starfield on your PC.
Problematic drivers: Outdated or corrupted drivers, particularly the one related to the graphics card, are a common reason why Starfield may not launch on your PC by showing the error code 0xc0000142.
Problematic game files: If the game is not installed correctly or some game files become corrupted or missing, the error code 0xc0000142 will appear while launching the Starfield.
Besides these facts, corrupted system files and third-party apps can also work behind this issue.
How do I fix Starfield error code 0xc0000142?
To fix Starfield error code 0xc0000142, start by updating everything from your OS to your drivers. Then, we suggest you follow these quick methods before jumping into the main solutions:
Now, try the following methods to solve the error code 0xc0000142 on Starfield:
1. Update the graphics driver
The most common reason you encounter the Starfield error 0xc0000142 is due to outdated graphics drivers. It is also a best practice to update the drivers frequently as it might fix various other issues such as crashing, freezing and other performance-related problems.
Press Win + X on the keyboard and go to Device Manager.
Expand the Display Adapters category by double-clicking on it.
Right-click on your GPU driver and then click on Update driver.
Now, click on Search automatically for drivers.
Finish the process by completing any additional steps.
At last, restart Windows.
Disclaimer: We are affiliated with the following driver updater.
We suggest you use a tool like Outbyte Driver Updater to update the GPU driver on a Windows 11 or 10-based computer. This tool can find and install the most game-friendly driver for your PC that helps to get a great gaming experience.
If you are getting low FPS from Starfield, updating the graphics driver will also help to solve that issue.
2. Update the game
To fix the application error code 0xc0000142 while launching Starfield, updating the game files may help. For this, follow these steps:
Open Steam or the game client you are using.
Right-click on Starfield and go to its Properties.
Relaunch Steam.
3. Re-install the game
If you want to resolve the error code 0xc0000142 on Starfield, uninstall it entirely and then install it again on your computer.
Open Steam or the game client you are using.

After that, click on the Install button.
Give it some time to finish the process.
If you use the Xbox app for this game, go to the Starfield game page there. Then, click on three horizontal dots and then click on Uninstall the game. After that, install it again.
4. Update Windows to the latest version
By updating your OS, you will also get the latest drivers, services, and processes needed to run games smoothly. Additionally, the update could fix the 0xc0000142 Starfield error. The best part is that it doesn't even take long.
Press Win + I on the keyboard to open Windows Settings.
Navigate to the Windows Update and click on Check for updates.
Install any available update.
Now, try to launch Starfield and see if it still stops working by showing the error code 0xc0000142 or not.
Additional methods to fix the Starfield error code: (0xc0000142):
Is the error still bugging you? Try these methods, too:
Perform a clean boot and run this game.
Uninstall any overclocking applications.
Re-install the Steam or Xbox app along with the game.
In case you are interested, check out this guide on how to fix Starfield crashing.
---
Related Articles:
---
Final Thoughts
Hopefully, the above suggestions will fix Starfield error code 0xc0000142 on your PC. However, if none of them help, you should consider resetting Windows or a clean installation. If you have any questions, feel free to ask us in the comment box below. Also, if you have any other solutions or fixes, feel free to drop them in the comments. We will test them and add them to our list if they work on multiple systems.