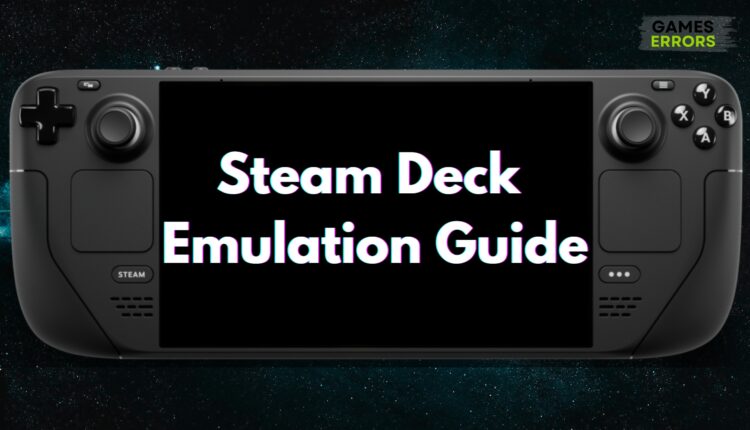 Steam Deck Emulation Guide: How To Use It Properly
You are in the right place to learn everything you need to know about the Steam Deck Emulation. This guide shows how to install emulators, load ROMs, and configure controls.
Are you intrigued by the potential of Valve's Steam Deck as an emulation powerhouse? You're in the right place. Emulation allows you to play classic games from various consoles on modern hardware, and the Steam Deck's capabilities make it an exciting option for this purpose. This guide will delve into the suitability of the Steam Deck for emulation and provide a step-by-step tutorial on setting up an emulation station on the device.
Is Steam Deck Good for Emulation?
Yes, Steam Deck is good for emulation because it is a highly capable device for emulation due to the following reasons:
Powerful Hardware: Equipped with a custom AMD APU, the Steam Deck offers robust performance, making it capable of running emulators for various consoles smoothly.
Portability: The handheld nature of the Steam Deck makes it ideal for on-the-go gaming, including emulation.
Customizable Software: Running on a Linux-based SteamOS, the device allows for software modifications, making it easier to install and run emulators.
Controller Layout: The built-in controls are well-suited for a wide range of games, from classic titles to modern releases.
How Do I Run an Emulation Station on Steam Deck?
To run an emulation station on Steam Deck, you first need to access the desktop mode and then install an emulator. Then, you will have to tweak the controls to fit your needs and play style and to load the desired ROMs once you are done.
Install an Emulator
Access the Desktop Mode: From the Steam Deck's main interface, navigate to Settings and then select System to switch to Desktop Mode.
Open a Web Browser: Once in Desktop Mode, open a web browser like Firefox or Chrome.
Download Emulator: Go to the website of the emulator you wish to install, such as RetroArch, and download the Linux version.
Install the Emulator: Navigate to the Downloads folder, find the downloaded file, and follow the installation prompts.
As you can see it is not that much different from your usual PC experience. Additionally, you can connect the Steam deck to a desktop or to your TV. Also, if you encounter Steam Dock issues. Don't Worry! There are ways to fix it.
Load ROMs
Due to the fact that the Steam Deck can work as a PC, you can also load the ROMs in a similar ways and even transfer them from one to another. To do it, follow the steps below:
Transfer ROMs: Connect a USB drive containing your ROMs to the Steam Deck.
Copy ROMs: Open the file manager and copy the ROM files from the USB drive to a folder on your Steam Deck.
Load into Emulator: Open the emulator, navigate to the folder where you copied the ROMs, and load them.
Configure Controls
One of the greatest options provided by the Steam Deck is the ability to customize your own controls according to your needs. Additionally, you can do this directly from Steam Deck's settings without much hassle.
Open Emulator Settings: Launch the emulator and go to the settings menu.
Navigate to Controls: Find the controls or input settings section.
Map Buttons: Follow the on-screen prompts to map the Steam Deck's buttons to the emulator's controls.
You might also be interested in how to connect a PS5 controller to Steam Deck.
Can Steam Deck Emulate PS2?
Thanks to its powerful hardware, the Steam Deck can emulate PS2 games. You can use emulators like PCSX2 to run PS2 games. However, it's essential to note that PS2 emulation can be demanding, and not all games may run flawlessly. Always check compatibility lists and tweak settings for optimal performance.
Some common issues you might encounter along the way:
Conclusion
The Steam Deck's powerful hardware and customizable software make it an excellent device for emulation. Whether you're looking to relive classic games or explore titles you missed, this guide should help you set up your Steam Deck as an emulation station. If you're interested in PS2 games, rest assured that the device can emulate them, although some tweaking may be required for the best experience.