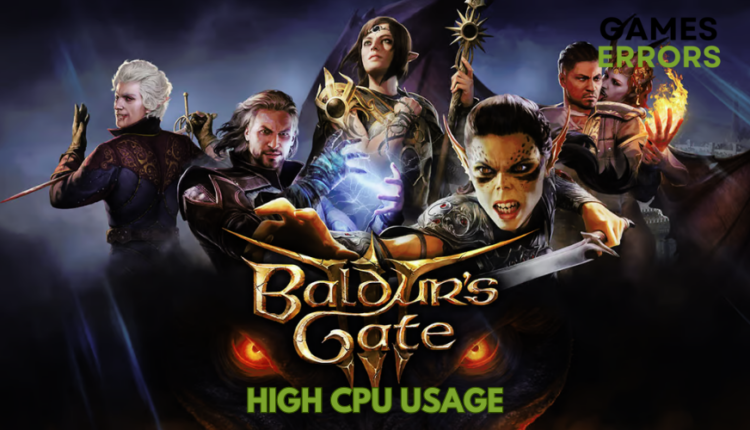 Baldur's Gate 3 High CPU Usage: Fix Like A Pro
Can't wait to explore the forgotten world of Baldur's Gate 3, but you are experiencing high CPU usage? Try following these troubleshooting steps to fix it ASAP ⚡
When Baldur's Gate 3 begins to experience high CPU usage, the results can be disastrous – a once smooth operation can result in a stuttering, unresponsive or even crash-prone gaming experience.
Although BG3 has been carefully optimized, there have been numerous reports of certain players experiencing increased CPU/GPU usage as they embark on their quests.
If you are currently experiencing Baldur's Gate 3 high CPU usage, keep reading to find out why you are experiencing this problem and how to fix it ASAP.
💥What Is Causing Baldur's Gate 3 High CPU Usage?
Graphics Settings: High-quality graphics settings might be putting extra strain on your CPU, causing it to work over time.
Outdated Drivers: Outdated graphics or system drivers could lead to inefficient CPU usage in BG3.
Background Processes: Other running applications or background processes could be using CPU resources, impacting BG3's performance.
Software Conflicts: Compatibility issues or conflicts with other software on your system might be causing high CPU usage.
Game Optimization: BG3 might not be fully optimized, leading to higher CPU usage than necessary.
Hardware Limitations: Your computer's hardware might not meet the game's requirements, causing the CPU to work harder to handle the game's demands.
How To Fix Baldur's Gate 3 High CPU Usage?
To fix Baldur's Gate 3 High CPU usage, complete the following pre-checks:
If you are still experiencing Baldur's Gate 3 High CPU Usage, try the solutions below.👇
Table of contents:
1. Scan your PC for malware
The first reason why you might encounter problems with CPU usage in BG3 and in general is malware. The worst part is that you might not even know that you have them. I don't, most of the time. However, I recommend you clean the system once a month, and you can watch YouTube while the Windows Protection works because it won't take long.
Open the Start menu by pressing the Windows key.
Search for and open Windows Security.
Click on Virus & threat protection.
Hit the Quick Scan button.
Windows Security will scan your PC and prompt you to take necessary actions to remove any virus or malware.
2. Update GPU Driver
Time needed: 4 minutes
Outdated GPU drivers can malfunction or cause system-related problems. To avoid any issues and enjoy smooth gameplay, consider updating your graphics drivers.
Press Windows key + R to open the Run box.
Type devmgmt.msc and click OK to open Device Manager.

In the Device Manager window, expand the Display adapters section.

Right-click on the display driver you want to update and choose Update Driver.

Select Search automatically for drivers. Windows will scan for available driver updates and download them.
📌 Are you tired of searching for the right drivers and dealing with device manager issues? Make life simpler with Outbyte Driver Updater. This third-party tool scours the internet to identify and install the best drivers for your system as you continue to enjoy playing Baldur's gate 3.
⇒ Get Outbyte Driver Updater
3. Turn Off Windows Animation Effects
The Windows Animation Effects is an option which might cause some problems such as the High CPU usage in Baldur's Gate 3. However, you can disable them in no time and return to the game.
Press the Windows key (Win) and R simultaneously to open the Run dialog.
Type "control" and click OK to access the Control Panel.
Within the Control Panel, navigate to Ease of Access, then proceed to Ease of Access Center.
Click on "Make the computer easier to see" found under the Explore all settings category.
Scroll down to locate the "Make things on the screen easier to see" section.
Opt for the "Turn off all unnecessary animations (when possible)" choice.
Click Apply to apply the changes, during which your screen might momentarily freeze. Once it resumes, click OK to finalize the process.
4. Reinstall BG3
This is one of the less nice options. However, it might work if the High CPU usage in BG3 is a result of something related to the game and not due to system problems.
Press the Windows key + I to open the Settings app.
Navigate to the Apps section and select Installed apps.
Choose the game you want to uninstall and click the Uninstall button.
After removal, reinstall the game.
5. Force the Game to Process Graphics Using the Dedicated GPU (if Available)
Always use your dedicated GPU for gaming, unless you want to have other problems besides the high CPU one, such as Baldur's Gate 3 Low FPS which might also occur with the one you are experiencing.
Search for "Graphics Settings" in Windows Search and open the graphics settings.
Click Browse and select Baldur's Gate 3 executable (EXE) file.
Click Options and select High Performance.
By following these steps, you can enhance your gaming experience, troubleshoot issues, and optimize your system for smoother gameplay.
6. Perform a SFC scan
Sometimes your system files might be faulty, and they could be the cause of BG3 high CPU usage. However, the process of fixing them is easy, but it takes a while due to the fact that the SFC will try to scan your entire system. To fix them, follow the instructions below:
Press Win + S to find the Command Prompt and run it as administrator.
Then type or copy and paste the following command: SFC /scannow and press Enter.
Once the SFC is done scanning, restart your PC.
Check if your Baldurs Gate 3 CPU usage was reduced.
7. Tweak your Power Plan
If you don't mind your PC using more resources and energy you can change the power settings or modify them to suit your needs better. Also, using the High Performance Power plan can fix the CPU usage problems in BG3 while also increasing your overall FPS. If you don't know how to change your power plan follow the steps below:
Press Win + S and search for Power, you should find the Power & Sleep Settings
On the right you will discover the Additional power settings button
Press it and a Power Options will appear, on the left there is a Create a power plan button
And now you can tick the High Performance option and just create it.
You can also press the Change Plan Settings button if you know what you're doing.

I would recommend you to set the Processor Power Management – Maximum State to 99% to prevent overclocking your CPU and to disable any boosters.

Once you are done, restart your PC.
8. Set the CPU affinity
The affinity setting allows you to decide which processors are going to be used by the game. Additionally, by using less processors you will reduce the CPU usage in BG3. To do it you'll have to:
Open the Task Manager, I prefer using the good old Ctrl + Alt + Del.
Once you opened it, if it is your first time press on the More Details button situated at the end.
Now that you are using the Advanced Task Manager, you can go to Details and look for BG3's .exe.
Once you found it out, right click on it and select Set Affinity.
Chose the cores from 0-3 and restart the game.
Check if you managed to reduce CPU usage in Baldur's Gate 3.
Additional Solutions:
Close unnecessary background processes: The background applications, services, and processes that you don't use might be the reason why your Baldur's Gate 3 CPU usage is increased.
Update your Windows.
Verify the game files: Sometimes corrupted and faulty files might be the cause of encountering the CPU bottleneck in BG3. But they can easily be fixed.
Rollback your GPU: If you had no issues with the CPU usage in BG3 before you last updated your GPU drivers, the problem might come from an unstable driver version. Thus, the best thing to do is to search the internet for the alternative optimized version.
Turn off the Ambient Occlusion option from the in game settings. Additionally use either FSR or DLSS as they might reduce the CPU usage in Baldur's Gate 3.
Related Articles:
Conclusion
In conclusion, games like Baldur's Gate 3, can make your computer's CPU work too hard, causing problems like stutters and crashes.
As mentioned above, you may be experiencing Baldur's Gate 3 High CPU Usage because of high graphics settings, outdated computer drivers, or other programs using too much power.
But don't worry. By scanning your PC for malware, updating your GPU driver, disabling power saving mode, turning off Windows animation effects, and more, you can optimize your PC for better performance.
In case of any comments, questions, or suggestions, let us know in the comment section below. Happy Gaming!