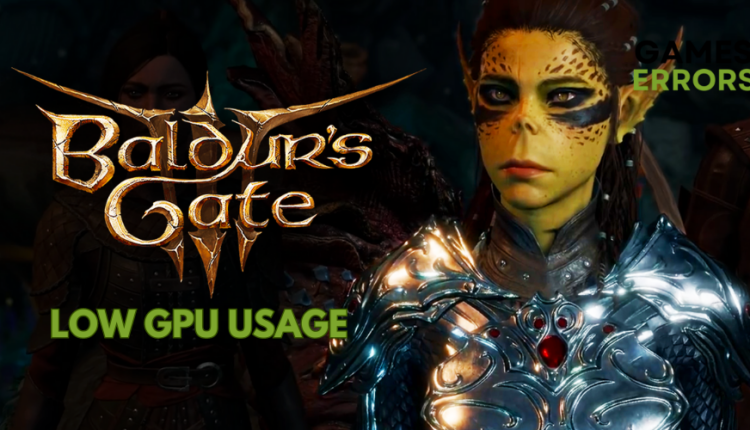 Baldur's Gate 3 Low GPU Usage: How To Fix Easily
Low GPU playing Baldur's Gate 3? No Problem! Here's a detailed guide explaining why you are experiencing this and how to fix it⭐
Have you noticed your Baldur's Gate 3 game not running as smoothly as you'd like? Maybe it stutters, lags, or just doesn't perform as well? This could be due to something called "low GPU usage."
Whether you're a gaming pro or new to Baldur's Gate 3, we've got you covered with simple solutions to fix Baldur's Gate 3 Low GPU usage and boost your game's performance.
In this article, we're going to break down what causes Baldur's Gate 3 low GPU usage, how to recognize when it's happening, and most importantly, how to make things better and get you back into the game ASAP.
What Causes Baldur's Gate 3 Low GPU Usage?
The main cause of low GPU usage in Baldur's Gate 3 is your integrated GPU, the system might be using it by default and it might let the dedicated one unused. Most of the time when this happened to me I also had FPS drops. But there are other common causes for low GPU usage in Baldur's Gate 3 such as:
⚡How To Fix Baldur's Gate 3 Low GPU Usage?
First things first, complete the following pre-checks.
If you are still experiencing this issue, try the solutions below👇
Table of contents:
1. Set your graphic performance to high
The first way to fix the Low GPU Usage in Baldur's Gate 3 is to set your graphic performance to high. This will allow your system to allocate more resources towards your graphics drivers. Also, this might boost your performance while gaming.
Press Windows + I to open Settings.
Click on System in the left pane, then choose Display.
Under Related settings, click on Graphics.
Select Baldur's Gate 3 from the list, and then click on Options.
Now, pick High Performance and click Save.
2. Update your Graphics Driver
Time needed: 4 minutes
To enjoy smooth gameplay, make sure that you always update your graphic drivers. However, running on the latest drivers is not always the best solution, as they might be a little bit unstable. The best thing you can do is update your drivers from the device manager.
Press the Win+X keys to open the Quick Link Menu.
Choose Device Manager from the list.

Double-click on Display adapters.

Right-click on the currently used dedicated graphics card.
Select Update driver.

Choose the option to Search automatically for drivers.

If an update is available, it will be downloaded and installed automatically.
Once done, restart the computer to apply the changes immediately.
📌 Why struggle with manual driver updates when you can have Outbyte Driver Updater handle it all? This tool automatically scans and installs the latest driver for your device to keep your PC optimized and responsive.
⇒ Get Outbyte Driver Updater
3. Disable your integrated GPU
There are games that are not considered priorities by your system. As a result, the assigned GPU will be the integrated one. For this reason, you will encounter low GPU usage in Baldur's Gate 3, and you might also face a low fps problem.
Click the Start Menu icon
Then type Device Manager in the search bar, and finally click Open.
Expand Display adapters
Right-click on your graphics card
Choose Disable device.
4. Enable hardware acceleration
Hardware acceleration is a way to increase your fps in games, and it works for Baldur's Gate 3 too. However, make sure that you check to see if everything is running smoothly after enabling this setting.
Press the Windows key and choose Settings.
Click on System, then select Display
Scroll down and click on Graphics.
Choose the option labelled Change default graphics settings.
Toggle on the Hardware-accelerated GPU scheduling option.
To disable Hardware-accelerated GPU scheduling, toggle off the option.
5. Use a Dedicated Graphics Card
If you have a dedicated AMD or Nvidia GPU, make sure that your system is using it while you are playing games. Sometimes it might be left out, and other times, when your PC is brand new, the graphics card could be installed improperly, which might be the reason why you have Low GPU in BG3 and in general.
🧩 For Nvidia GPU:
Right-click on the blank desktop screen and choose Open Nvidia Control Panel.
Navigate to 3D Settings, then click on Manage 3D Settings.
Open Program Settings, then select Baldur's Gate 3 from the list.
Choose the Preferred graphics processor for this program from the available options.
Once completed, you should see it listed as High-Performance Nvidia Processor.
Be sure to save your changes and restart the PC.
🧩 For AMD GPU:
Right-click on the blank desktop screen and open AMD Radeon Settings.
Proceed to Additional Settings, then go to Preferences.
Click on Power and access Switchable Graphics Application Settings.
Select Baldur's Gate 3 from the list.
If the game is not visible, add the application to the list.
Once added, set Graphics Settings to High Performance.
Finally, restart the PC to apply the changes.
✅ Other FIXES worth trying if Baldur's Gate 3 still has low GPU usage:
Related Articles:
Conclusion
In conclusion, low GPU usage can be caused by various factors, including outdated drivers, overheating, background applications, and graphics settings. By addressing these issues, you can restore your game's smoothness and enjoy uninterrupted gameplay.
So, if you've noticed your Baldur's Gate 3 game experiencing sluggish performance due to low GPU usage, don't worry. Whether you're a seasoned gamer or new to the world of Baldur's Gate 3, this article has provided straightforward solutions above to help you enhance your gaming experience.
Feel free to let us know what worked for you in the comment section below. Happy gaming!