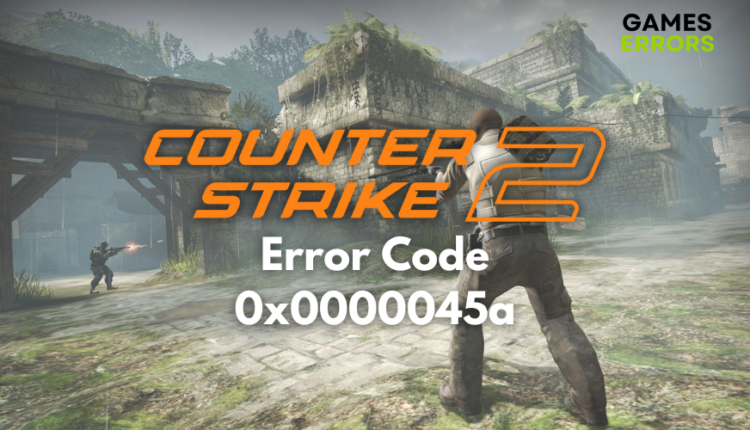 CS2 Error Code 0x0000045a: Fix Unable to Load engine2 Error
In my research to find the best solutions to the CS2 error code 0x0000045a, I discovered a few that were successful on multiple systems and listed them below.
Counter-Strike 2 (CS2), the popular first-person shooter game developed by Valve Corporation, has been the talk of the gaming community for its immersive gameplay and advanced graphics. However, like any other game, CS2 is not without its issues. One of the players' most commonly reported errors is the "Error Code 0x0000045a." This error has frustrated many gamers, especially those with older computer systems, like my laptop. In this article, we'll delve into the root causes of this error and provide potential solutions to help you get back into the game.
Understanding the Error Code 0x0000045a:
Error 0x0000045a typically manifests with the message "Unable to load 'engine2'. A dynamic link library (DLL) initialization routine failed." This error primarily occurs due to compatibility issues between the game and certain older CPUs or operating systems.
Primary Causes:
There are many reasons why you might encounter the CS2 error code 0x0000045a, such as improper installations, missing game files, file conflicts, and so on. However, the main causes are the following:
Unsupported CPUs: CS2 does not support certain older CPUs, notably the Athlon and Phenom series. This incompatibility can lead to the error.
Outdated Operating Systems: CS2 requires modern operating systems for optimal performance. Specifically, the game may not support Windows 7 and might need Windows 10 or higher.
Potential Fixes for Error Code 0x0000045a:
While I was testing out quick fixes and solutions for the CS2 error code 0x0000045a, I found a variety of ways to get rid of it. However, the best ones were:
Verify Game Files Integrity:

Open your Steam client and navigate to the "Library" tab.
Right-click on "Counter-Strike 2" and select "Properties."
Go to the "Local Files" tab and click on "Verify Integrity of Game Files."
Allow Steam to check and replace any missing or corrupted files.

Upgrade Your CPU and OS:

If you're using an Athlon or Phenom CPU, consider upgrading to a more modern CPU like Intel Core i5 or AMD Ryzen 5.
Upgrade your operating system to Windows 10 or at least Windows 8.1 for better compatibility.

Use Compatibility Mode (For Windows Users):

If you cannot upgrade your OS, try running CS2 in compatibility mode. Right-click on the game's executable file, select "Properties," navigate to the "Compatibility" tab, and choose an older Windows version.

Update Graphics Drivers and DirectX:

Ensure your graphics drivers are up-to-date. Visit your graphics card manufacturer's website to download the latest drivers.
CS2 relies on DirectX, so make sure you have the latest version installed.

Rollback your GPU:

If you are using either beta or the latest versions of the graphics drivers, know that they might be buggy and function poorly.
What you need to do is uninstall the GPU driver and then install a more stable one from your manufacturer.
Additionally, you could use the Windows Update tool to install a recommended version of the GPU driver.

Run a SFC scan:

To ensure that you don't have any corrupted or missing system files such as .DLLs run the System File Checker
Open the Command prompt and copy paste the following SFC /scannow.

Reinstall Counter-Strike 2:

If there are any old CS:GO files left causing this problem, this will get rid of them for sure.
Go to the Steam Library and uninstall the game.
Go to Store and search for Counter-Strike 2 and install it on a different disk.

Consider Other Workarounds:

Some users have mentioned potential workarounds like using the Intel Software Development Emulator. However, this solution seems to be Intel-specific and might not work for everyone.
Community Discussions:
Players have taken to platforms like Steam Community and Reddit to discuss this error. While some have found workarounds, others are hopeful that Valve might release an update to support older CPUs in the future.
---
Related Articles:
---
Conclusion:
Error 0x0000045a in CS2 can be a hurdle for players with older systems. While the solutions provided above might help some users, it's essential to understand that optimal game performance often requires up-to-date hardware and software. Always keep your system updated, and stay tuned for official patches or updates from Valve that might address this issue. If the solutions provided helped, bookmark our page, we will keep it updated. Also, if you discover any fixes and solutions for the error 0x0000045a, leave them in the comments, and we will check them out.