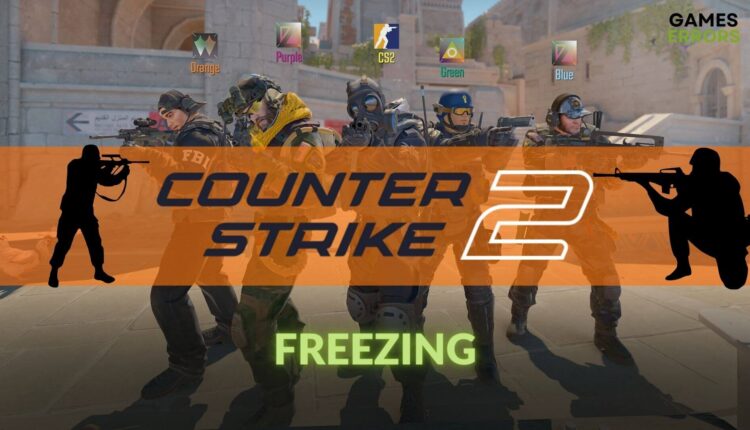 CS2 Freezing: 3 Ways to Fix This Issue
Is the latest Counter-Strike 2 freezing from time to time and becoming unresponsive? Try our solutions featured in this article to get rid of this problem ✅
The unwanted freezing issue on CS2 can be very annoying for some users. We also went through the same problem while playing this multiplayer FPS. Thanks to some amazing solutions, we were able to fix this problem completely.
The new CS2 game has replaced the CS: GO. Technically, it's the upgraded version of that game. So, everyone expects it to perform well, even on a low-end PC. It does. But gamers are also experiencing problems like freezing, stuttering, and crashing issues on Counter-Strike 2.
Why is Counter-Strike 2 randomly freezing on my PC?
The freezing problem on this first-person-shooter multiplayer title is occurring mostly because of these issues:
Known bugs: The CS2 is a fresh new game with some optimization issues. So, the freezing problem is probably happening on your PC due to a bug in the game.
Outdated components: Buggy or outdated GPU drivers, game files, and system components can trigger this freezing problem or low FPS issues on Counter-Strike 2.
Third-party services: For some problematic third-party services, CS2 may go through freezing issues from time to time on your PC.
How can I fix the CS2 freezing problem?
We have prepared the most effective methods to solve this problem. However, to perform these things, you must complete the following preliminary steps:
Make sure that your PC is fully compatible with the Counter-Strike 2's system requirements.
Enable high-performance mode.
Disable the antivirus and firewall temporarily.
Ensure that you have a stable internet connection.
After ensuring the above things, apply our recommended methods to fix the freezing problem on Counter-Strike 2:
1. Update the graphics and network drivers
Time needed: 2 minutes
The first and most effective method to fix the freezing problem on CS2 is updating the GPU driver. When we tried this solution, it worked instantly.
Click on Search automatically for drivers.
Restart your PC.
You can use the Outbyte Driver Updater to update the GPU driver. In contrast to the device manager, this tool can install game-ready drivers, significantly lowering the chance of encountering freezing issues on CS2.
⇒ Get Outbyte Driver Updater
2. Update the game
Launch Steam and go to its game library.
Navigate to the Updates tab.
Relaunch Steam.
Now, Steam will update the game automatically without doing anything else.
3. Check for Windows update
Press Win + I on the keyboard to open the Windows Settings.
Install any available one.
Then, restart your PC and start playing the CS2 to see if it still freezes randomly or not.
More tips:
The following methods are also helpful in getting rid of the freezing problem in this game:
Learn how to fix DirectX error on CS2 if needed.
In this article, we have shown how we fixed the CS2 freezing problem. We have also verified that the methods mentioned above are helpful for any users who go through the same problem. However, if the problem still persists, you can re-install the game completely on a different SSD. Do you have a better method? Feel free to express your opinions or any suggestions in the comment box.