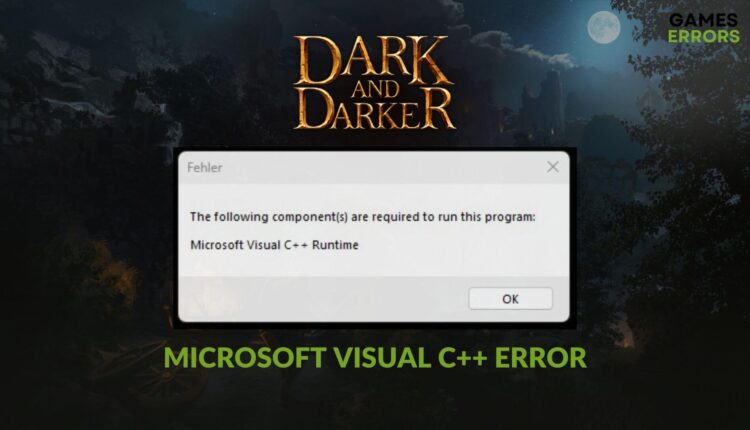 Dark and Darker Microsoft Visual C++ Error [Quickly Solved]
If you see that Dark and Darker is stopping working by showing the Visual C++ Runtime error on your PC, try the suggestions from this article to get rid of it 🎯
Are you getting a Microsoft Visual C++ error on Dark and Darker? If yes, don't worry. This article will help you with the best solutions that will allow you to have an error-free gameplay experience.
Ironmace's Dark and Darker is indeed a fantastic multiplayer fantasy extraction game that offers a different gaming experience that can attract any gamer. But, if you encounter errors related to the game components like Visual C++ at the beginning, it will disappoint you.
What is the Microsoft Visual C++ Runtime error on Dark and Darker?
To run most games and many programs on Windows, you need Visual C++ library files on your PC. However, when any of these required files are corrupted or missing, you will usually see the C++ Runtime error while launching games like Dark and Darker.
This problem can be a result of corrupted system and game files, virus problems, outdated drivers, etc. But, by taking proper steps, you can easily get rid of it.
How do I fix the Dark and Darker Microsoft Visual C++ error?
You should stop being overly anxious about this issue. This is not a serious problem. Before trying out the main troubleshooting methods to resolve Microsoft Visual C++ Runtime on Dark and Darker, we suggest you complete these prechecks:
Ensure that you are using the genuine version of the game.
Make sure that your PC doesn't have a virus problem. If needed, scan with a good antivirus.
Also, make sure that there is no disk-related problem.
Now, apply the following solutions to get rid of this problem entirely:
1. Re-install Microsoft Visual C++ redistributable
Time needed: 5 minutes
To fix the Dark and Darker Microsoft Visual C++ error, you should re-install this component. This is the most working solution out there.
Locate the Microsoft Visual C++, click on the three horizontal dots next to it, and then click on Uninstall.

Complete any additional steps to finish the process.
In this way, uninstall all of these components.
Restart Windows.
Visit the Visual C++ download page.
Install the Visual C++ package and restart your PC.
Re-installing this component will also help if you see a blank black screen on Dark and Darker.
2. Update the game drivers
Outdated GPU drivers also can be why you get C++ Runtime errors while playing Dark and Darker. So, update the drivers to eliminate this problem. Follow these steps to do it:
On the Windows Search Box, type Device Manager, and press Enter.
Double-click on Display adapters.
Right-click on the graphics driver and click on Update driver.
Click on Search automatically for drivers.
Finish the process.
Similarly, update Network drivers and all other drivers you think appropriate.
At last, restart Windows.
We strongly suggest you Outbyte Driver Updater for updating multiple drivers on your PC. It is because you will need a lot of time if you try to update every driver manually. On the other hand, this tool can update all of your drivers with just a single click.
⇒ Get Outbyte Driver Updater
This method will also work if you are encountering Dark and Darker not launching problems.
3. Run the SFC command
Press Win + X on the keyboard and then click on Terminal (Admin).
Give it some time to finish the process.
After finishing, restart your PC. Then, re-launch Dark and Darker and see if you still encounter Visual C++ errors on Dark and Darker or not.
More methods:
The problem may still keep bugging you. In this case, we suggest you do these things:
Perform a Clean Boot and run this multiplayer title to see if it helps.
Update Windows to the latest version.
Related Articles:
Hopefully, the above suggestions will help you to troubleshoot the Dark and Darker Microsoft Visual C++ error on Windows 11 or 10. However, if nothing works, you can consider re-installing this game. Have any questions appeared in your mind? Feel free to ask us in the comment box.