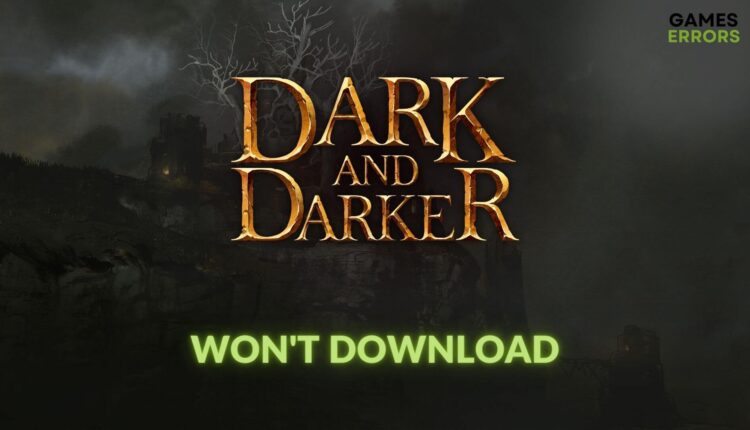 Dark and Darker Won't Download: How to Fix
Don't get panicked if you can't download the Dark and Darker for unknown reasons. Try the solutions from this post to fix this problem ✅
If you notice that Dark and Darker won't download on your PC, it will be a very frustrating experience. Particularly after purchasing, if you cannot install it, it's totally an unexpected matter.
This fantasy Dungeon crawling multiplayer title has already been at the center of attention. Even though Dark and Darker is not available on popular stores like Steam, Epic Games, etc., it has gained popularity due to its quality.
For some reason, a group of users are not being able to download this masterpiece on their PC. This article will explain this problem and guide you to get rid of this situation.
Why won't Dark and Darker download?
If you are unable to download Dark and Darker, these are the most common reasons behind it:
Network problem: The first and most common reason behind the Dark and Darker download problem is your network configuration and the internet's stability.
Security programs: Antivirus and firewall also may prevent you from downloading Dark and Darker on your device.
Proxy and VPN: Sometimes, if you have enabled a proxy or configured a VPN, it may be a reason why Dark and Darker won't download.
Server overload: If the server has too much pressure and there is something wrong, users from certain regions may encounter download problems.
What should I do if Darker and Darker won't download?
We found the most accurate solutions for the Dark and Darker not downloading issue. However, to apply these solutions, you must complete these prechecks first:
Ensure that you have a stable internet connection.
Check the Chaf Games server status and make sure everything is OK.
Disable any proxy and VPN.
Powercycle your PC and Router.
After that, try the following methods to get rid of this issue:
1. Change DNS
Time needed: 2 minutes
If you change DNS, it may fix the Dark and Darker won't download issue. So, try this solution before doing anything else.
Select manual and enable the switch for IPv4.
At last, restart your Windows.
2. Reset network
Open Windows Settings again.
Click Network reset.
Then, click on Reset now.
Next, restart Windows.
3. Update the network driver
The problem may also be a result of an incompatible network driver. So, we suggest you update the driver to fix the Dark and Darker won't download. For this, follow these steps:
Press Win + R to open Run.
Now, paste the following command and hit Enter to open the Device Manager: devmgmt.msc
Expand the Network adapters.
Right-click on the adapter you are using and then click on Update driver.
Then, click on Search automatically for drivers.
After updating, restart your PC.
To update the network adapters, you should use Outbyte Driver Updater. This tool can find and install the most compatible driver. In addition, you can update all other drivers on your PC with just a single click by using this small application.
⇒ Get Outbyte Driver Updater
Besides the network driver, you also can update the GPU driver as well.
4. Try a different network
You may still have the same problem. In this case, we suggest you use a different network. Maybe, you can use a mobile hotspot or a different WiFi. However, we also suggest you consider using ExpressVPN as it is a perfect option for gamers. Then, see if you can download Dark and Darker or not.
More solutions:
Are you still having this issue? These solutions can help you as well:
Update the Chaf Games or re-install it to see if it works.
Try to download this multiplayer game after performing a clean boot.
Update Windows and its components.
Related Articles:
The above solutions are indeed helpful if you want to fix the Dark and Darker won't download. However, you may also need to keep patience as it can be a known issue in certain regions and will go away automatically. If you have any questions, let us know in the comment box.