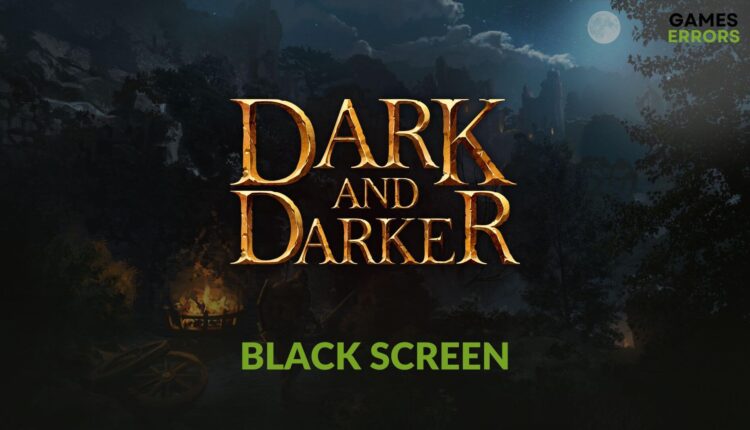 Dark and Darker Black Screen: Most Effective Solutions
Rather than the stunning visuals, if you see a blank black screen in Dark and Darker, it will be like a nightmare. So, go through this article and learn the best solutions to fix this issue ✅
The black screen problem on Dark and Darker has been very common for some gamers. This issue can ultimately prevent you from enjoying this title. But, if you can tweak the right things, this problem will disappear.
This multiplayer fantasy game by Ironmace is an exciting addition to the industry. It's more enjoyable than average multiplayer games. However, things will go opposite if the Dark and Darker gets stuck on a black screen problem. Unfortunately, many gamers are already going through this situation.
Why Dark and Darker is showing a black screen?
The blank black screen issue may appear on Dark and Darker for various factors. Among them, these are the most common ones:
Incompatible GPU driver issue: You may see a black screen or have freezing issues on Dark and Darker for outdated or problematic graphics drivers.
System requirements: If your PC does not have the required hardware capacity, Dark and Darker won't launch or show you a blank black screen after startup.
Problematic components: Related game components can get altered or corrupted due to various things. It can be one of the most significant reasons behind the blank screen issues on this fantasy multiplayer.
Improper settings: Else, improper in-game or Windows settings can play a big role in creating this type of situation.
How can I fix the Dark and Darker black screen problem?
Before jumping into the main solutions, you should always make some prechecks and try some quick methods to make the troubleshooting process more effective. So, we suggest you do these things:
First, check the Dark and Darker system requirements to ensure your PC is well-capable.
Disable your antivirus and firewall or uninstall them temporarily.
Ensure that the game and the client you are using, for example, the Chaf Games, are up to date.
Initially, when you see the blank black screen on this game, give it time to see what happens, as it may be building cache files before loading the game.
Now, try the following solutions to get rid of the blank black screen problem on the Dark and Darker:
1. Enable high-performance mode
The high-performance mode will allow your system to gather more resources, but it will use more energy. However, it can be exactly what you need to boost the performance and to fix the Dark and Darker Black Screen problem.
Press Win + I on the keyboard to open the Windows Settings.
Go to Graphics.
Select Dark and Darker from the list and click on Options.
Restart Windows.
2. Update the graphics driver
Time needed: 2 minutes
Updating the graphics card driver is the most effective method to fix the black screen problem on Dark and Darker.
Click on Search automatically for drivers.
After updating, restart Windows.
To update your GPU driver, we suggest you use a tool like Outbyte Driver Updater. This small application is a very helpful one you can use to get the most accurate drivers for your Windows 11 or 10 PC.
⇒ Get Outbyte Driver Updater
3. Clear cache
For some users, clearing the installation cache may resolve the black screen issues on this multiplayer title. For this, follow these steps:
Open the Chaf Games app.
Click on your profile in the top right corner and go to Preferences.
Relaunch Chaf Games.
4. Clear shader cache
Go to the Windows settings again.
Click on Temporary files.
Tick DirectX Shader Cache.
Click on Remove files.
5. Disable the in-game overlay
Sometimes the in-game overlay either provokes conflicts, or works poorly, avoiding it might be the right solution to fix the Dark and Darker Black Screen problem.
Open the Preferences in Chaf Games again.
Click on Apply.
After disabling the in-game overlay, launch Dark and Darker and see if you still experience the black screen problem. Please keep in mind that if you have any other apps like NVIDIA GeForce Experience that have an overlay feature, you will need to disable it from there as well.
More tips:
You may still go through the same problem. So, we suggest you consider trying these methods too:
Update DirectX and the Visual C++ packages.
Play with lower settings.
Disable any over-clocking apps.
Re-install the GPU driver.
Boot into clean boot mode and see if it helps.
Tweak the engine.ini file from this location: C:\Users\[username]\AppData\Local\DungeonCrawler\Saved\Config\Windows
Re-install the game.
Related Articles:
Usually, the above suggestions should fix the Dark and Darker black screen problem on your PC. But, if not, you may force this game to run on DirectX 11. Also, check for any memory issues and fix them. Have you got any questions? Let us know in the comment box.