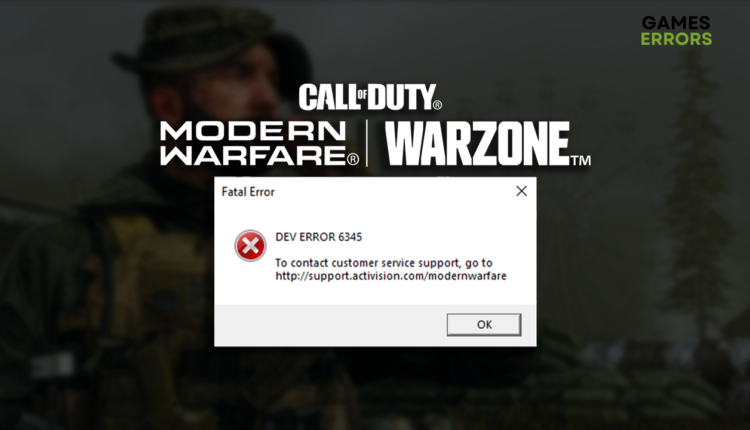 Dev Error 6345 in Warzone & Modern Warfare [Solved]
If the error is for developers, why must gamers handle it? We wish we knew, but we don't. What we know, on the other hand, is how to resolve it on your PC! 👾
Encountering Dev error 6345 in Warzone or Modern Warfare can be confusing and frustrating, the worst mixture when troubleshooting game errors. The good news is that we are on your side, ready to help you tackle the causes of this annoying issue!
Do you have launching problems with the game? Learn what to do when Call of Duty Modern Warfare won't launch.
What is Dev code 6345?
Dev code 6345 is a fatal error occurring in Modern Warfare and Warzone. It is caused by background apps, corrupted game files, unsuitable overclock settings, read-only property on the COD folder, an outdated GPU driver, pilled-up cache and temporary files, obsolete Windows, or other problems related to game files.
How to fix Dev code 6345?
First, apply these checks and fixes:
Close background apps: This way, you will prevent apps from interfering with COD while trying to launch and play it.
Verify game files: We have you covered regardless of your game distribution platform!
Disable overclock settings: Although it can be an excellent way to boost performance, it is also known to cause Dev code 6345.
Next, use the solutions we listed below.
1. Change the COD folder settings
Time needed: 2 minutes
Depending on your Windows version, the issue might be related to the Read Only property of the COD installation folder. Follow the steps below to disable this.
Use the Windows key + E shortcut to open File Explorer and navigate to the COD MW folder.

The default location of the folder is C:\Program Files (x86)

Right-click on the Call of Duty Modern Warfare folder and select Properties.

Uncheck the Read Only (Only applies to files in the folder) and hit OK.

Restart your PC and launch the game.
2. Update the GPU driver
An outdated GPU driver won't support your graphics card when it needs to do demanding actions related to launching and running Call of Duty. You should follow the steps below to install the latest GPU driver and avoid Dev error 6345.
Click on the Windows icon, type Device Manager, and open it.

Double-click on the Display Adapters section.

Right-click on your GPU and select the Update driver option.

Select the Search automatically for drivers option.
Install the GPU driver update.
Restart your PC.
We have a proposal if you are tired of updating the GPU driver manually! Start using Outbyte Driver Updater to automatize the driver management. This tool handles everything from scanning to monitoring to updating drivers whenever needed.
⇒ Get Outbyte Driver Updater
3. Delete cache files
Pilled-up cache files can cause various issues on your PC, including the Dev error in Warzone and Modern Warfare. Follow the steps below to navigate to the Local folder on your PC and delete cache files.
Use the Windows Key + R shortcut to open the Run dialog, type %localappdata%, and hit OK.

Use the CTRL + A shortcut to select all files in the folder.
Press the Delete key on your keyboard to delete all the files in the folder.
➡ If prompted to confirm, click on Yes.
➡ If some files can't be deleted, click on Skip.

Extra steps
Here are some additional steps to take to resolve the Dev Error 6345 in Warzone and Modern Warfare:
🖥 Update DirectX: Although the minimum system requirements for COD MW state you need DirectX 11, we advise installing the latest DirectX version.
🧹 Perform a Disk Cleanup: Click on the Windows icon, type Disk Cleanup, and open it. Run the cleanup with DirectX shader and temporary files selected.
💽 Perform a Clean Boot: This way, no unnecessary startup services will boot with your OS.
⬆ Update Windows: Click the Windows icon, type Check for updates, and open it. If any updates are pending, install them and restart your PC.
🔁 Reinstall COD MW: Some players claim that the only way to remove the Dev error was to uninstall the game, delete all files and folders, and perform a clean installation.
Related articles:
Conclusion
We can conclude that the best way to troubleshoot Dev error 6345 is to close background apps, disable overclock settings, and verify game files. Proceed by changing COD folder settings, updating the GPU driver, and deleting cache files from the Local folder on your PC.
Don't forget to update DirectX and perform a Clean Boot and Disk Cleanup. Update Windows and Windows-related components, and as a last resort, reinstall the COD MW. Good luck, and comment on how it went for you!