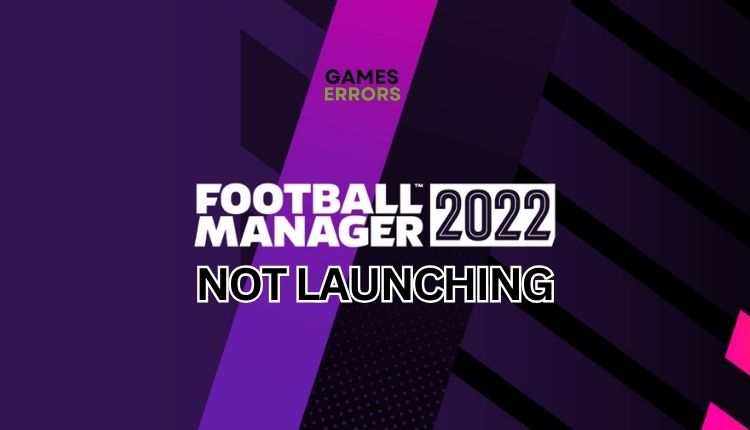 Football Manager 2022 Not Launching: How To Start
Are you having trouble launching Football Manager 2022? We've got you covered with these foolproof and quick solutions. ⚽ 🏃
Are you having the misfortune of Football Manager 2022 not launching? This ultimate sports game seamlessly brings to life the beauty of football-management simulation and delivers a truly immersive experience. It captures every aspect of the sport, big or small, with confidence and precision, making it the perfect choice for football enthusiasts. However, if you have a problem that Football Manager 2022 won't launch, we are here to help you with our practical tips.
Why my Football Manager 2022 won't launch?
There are multiple significant reasons behind the occurrence of this problem, including:
How do I fix it if my Football Manager 2022 is not launching?
Before we move on to our concrete tips, try this quick precheck:
If the problem is not solved despite precheck tips, do the following:
1. Add the game exception to your firewall
We suggest creating a Windows Firewall exception to prevent Football Manager 2022 from being flagged as a threat and causing functionality issues.
1. Press the Win+R keys to open the Run dialog box.
2. Type; "firewall.cpl" and hit Enter to open Windows Defender Firewall.
3. Select Allow an app or feature through Windows Defender Firewall.
4. Click the Change Settings button and then Allow Another App.
5. Browse to add Football Manager 2022 to the firewall (Default path: C:\Program Files (x86)\Steam\steamapps\common\Football Manager 2022\fm.exe)
In addition to the firewall, we advise you to make an exception for the game in your third-party antivirus application or to turn it off temporarily.
2. Update GPU driver
If you're struggling to keep all the drivers on your Windows system up-to-date, including the ones for your GPU, we recommend trying Outbyte Driver Updater. This reliable tool can take care of everything for you, making the process hassle-free and worry-free.
⇒ Get Outbyte Driver Updater
3. Delete the Caches and Preferences folders
Sometimes, you may have launch issues in Football Manager 2022 because of corrupt cache and preferences files. We suggest deleting these folders:
1. Press the Win+R keys to open the Run dialog box.
2. Type "%localappdata%" and hit Enter.
3. Search for and open the Sports Interactive folder.
4. Open the Football Manager 2022 folder.
5. Delete the Cache and Preferences folders.
6. Relaunch the game and check if the launch issue is gone.
💡Extra steps:
Is your Football Manager 2022 still not launching? Then consider these options:
Related articles:
Conclusion
If you're facing issues while launching Football Manager 2022, there's no need to worry. First, ensure your system meets the game's requirements, then restart the game launcher or your PC. Also, don't forget to update your GPU driver, close any unnecessary apps running in the background, and delete the Cache and Preferences folders. Additionally, adding the game exception to your firewall may also prove helpful. Remember, we are here to support you every step of the way. If you require further assistance, please feel free to comment below.