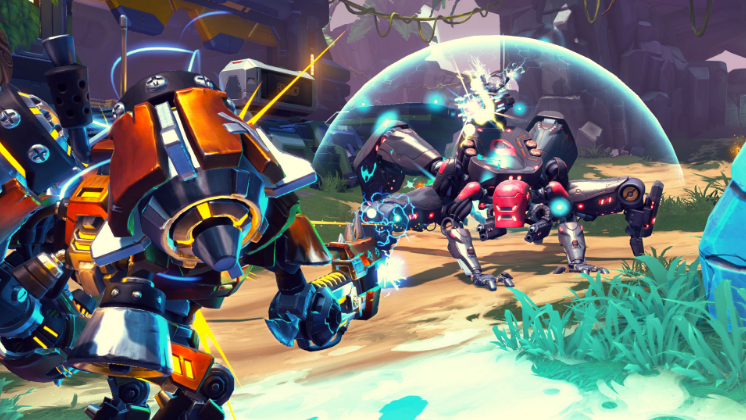 How to Fix Battleborn Errors, FPS Issues, Crashes, Connectivity Issues
Battleborn was released today on Steam and a lot of players are complaining about issues that are making the game unplayable. The game is MOBA genre and it's now out of beta, some of the game issues were fixed in this version but the game still has some annoying bugs.
The most common Battleborn errors, that players are encountering, are FPS Issues and performance issues overall like Low FPS, FPS Drops, Stuttering, other issues with the game are Crashes and Connectivity Issues, some users are unable to connect to the game servers or they are unable to find a match.
Make sure that you meet the system requirements below and that your rig is able to run the game. After that, check the issues list below where you will also find solutions on how to fix them and play the game.
MINIMUM:
OS: Windows® 7 x64-bit or Later
Processor: Intel i5-750 / AMD Phenom IIx4 945
Memory: 6 GB RAM
Graphics: AMD HD 6870/ NVIDIA GeForce GTX 460 or better, PhysX support
DirectX: Version 11
Network: Broadband Internet connection
Storage: 30 GB available space
Sound Card: DirectX 11 Compliant
Additional Notes: Initial installation requires an internet connection for Steam authentication, and gameplay; software installations require (included with the game) include Steam Client, DirectX 11, NVidia PhysX, .Net Framework 4.5, Visual C++ Redistributable 2010, and Visual C++ Redistributable 2012.
RECOMMENDED:
OS: Windows® 7 x64-bit or Later
Processor: Intel i5-750 / AMD Phenom IIx4 945
Memory: 6 GB RAM
Graphics: AMD HD 7850/ NVIDIA GeForce GTX 660 or better, PhysX support
DirectX: Version 11
Storage: 50 GB available space
#1 Battleborn FPS Issues
This is the most common issues in the game, encountered by a lot of players. Usually, gamers with AMD graphic cards encounter this type of errors and other performance issues. To fix this issue follow the tutorial at the end of the post.
"I'm currently suffering from low FPS. This is absurd as I have an i7 6700k and a GTX 970, is anyone else having problems with FPS? To be more exact in the starting bit in the prologue I'm getting 7-10 FPS and only 30ish at the main menu. My machine is way past the recommended settings and I've updated my drivers so I'm a little stumped as to why I'm getting this atrocious frame rate."
#2 Battleborn Download Issues
If you are encountering download issues and your download is stuck you should try to change your server region and download again. Also, follow this guide here if the server is not the problem.
#3 Battleborn Crashes
"I'd really enjoy playing the beta, but it crashes every time I make it to the character selection screen with no prior warning or message. How do I fix this?"
Some players are encountering random crashes or crashes at the startup of the game. To fix this issue you need to make sure that you meet the minimum system requirements of the game and after that you need to follow our tutorial at the end of the post and you will be able to start the game after you apply it.
#4 Battleborn Tweaks for Better Performance
You can change the configuration file of the game to get a better performance. To do that go to C:\Users\\Documents\My games\Battleborn\PoplarGame\Config\PoplarEngine.ini and change the following lines:
MaxParticleResize=50000
bSmoothFrameRate=FALSE
DynamicLights=True
DynamicShadows=False
LightEnvironmentShadows=False
MotionBlur=False
DepthOfField=False
AmbientOcclusion=False
Bloom=False
bAllowLightShafts=False
Distortion=False
FilteredDistortion=False
DropParticleDistortion=False
LensFlares=False
FogVolumes=False
AllowRadialBlur=False
ParticleLODBias=0
DetailMode=0
MaxAnisotropy=16
FXAA=False
#5 Battleborn Connectivity Issues
You might be unable to connect to the game server or you can't find any match available to play online. You can fix this issue with our tutorial below.
How to Fix Battleborn Errors:
Our team of developers managed to release a patch that helps you fix the errors described above. You can see how our patch looks like below, where you can also find a tutorial on how to use it and a download link. Please follow the tutorial step by step before asking any questions regarding your issues. Our patch won't interfere with your Steam account, it will just change some files and .dll in the game folder in order for the errors to be fixed.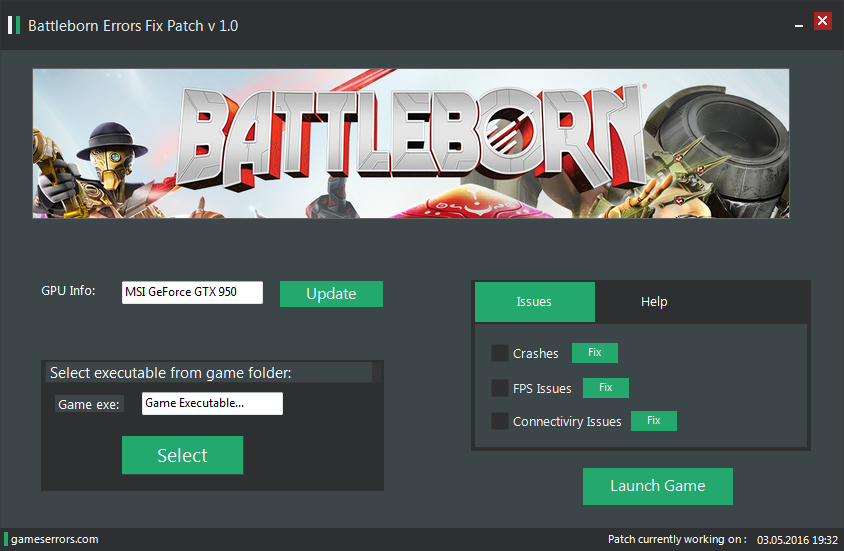 Follow the tutorial below to apply the patch correctly to your game.
How to apply our patch:
Download the archive of the patch from here: download
 Extract the downloaded archive on your PC, and open the patch from the folder.
Your GPU will be selected automatically, make sure that you use your dedicated GPU if you have a laptop!
Select the game executable from the game folder, if you used the default install folder it should be: "C:\Program Files (x86)\Steam\Steamapps\common\Battleborn"
 Select your issue or issues from the box to the right and click the corresponding "Fix" button.
After your errors are successfully fixed you can click the "Launch Game" button and play the game.
How to download: Well, you might think that our download service is pretty annoying but is very effective. To download you just need to complete a simple offer, it usually takes a few minutes, and after that, you will be able to download the patch. We use this service because is the only way to support our developers and to keep releasing and updating patches for games. Thank you! We hope you understand us and have fun playing Battleborn!
We hope that our workarounds and patch helped you fix your Battleborn errors and that now you are playing and enjoying the game. You can comment below if you encounter any issues in applying our patch or if you find any other errors in the game. Have fun playing! – GamesErrors Team