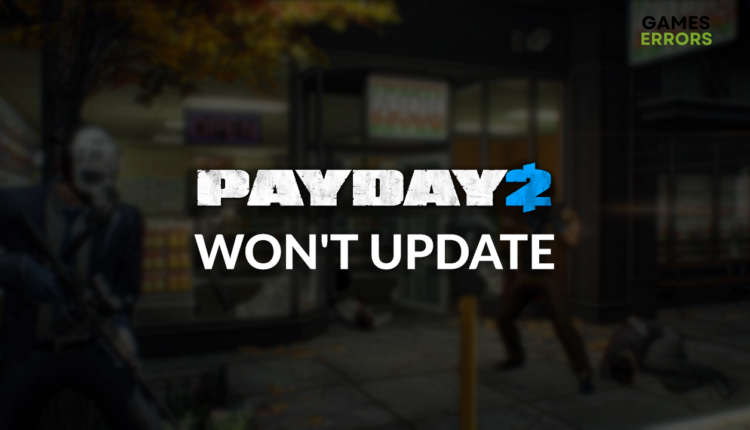 Payday 2 Won't Update: Here Is What to Do
Since the game was released in 2013, it had hundreds of updates. Continue reading to learn what to do when some updates don't want to come on your PC! 🕵️‍♀️
Gamers are complaining about the Payday 2 won't update problem, and many of them even give up on the game due to it! We are here to prevent this and to help you play this stealth game like you deserve to. Ultimately, not all of us want to play the latest version of the game, as Payday 2 allows more shooting and less thinking. Let's dive deep into our list of solutions for the Payday 2 updating problem.
If you are experiencing stability issues, learn how to fix crashes in Payday 2.
Why Payday 2 won't update?
Payday 2 won't update due to faulty game modifications, problems with Windows permission, missing Visual C++ dependencies, an outdated network driver, incorrect network settings, unnecessary background apps, compatibility problems, lack of free disk space for the update, corrupted existing game files, or outdated Windows components.
How to fix the Payday 2 won't update problem?
Here are some easy checks and fixes you can begin with:
Disable Payday 2 mods: Although a great way to enhance the experience in this decade-old game, sometimes such modifications can cause updating issues.
Run Payday 2 as an administrator: This way, you will give all necessary permissions to the game.
Proceed with these solutions to troubleshoot the Payday 2 won't update problem.
1. Install Visual C++ dependencies
Many games on Windows rely on Visual C++ dependencies to run smoothly. In particular, Payday 2, together with all mods for it, needs these dependencies to update correctly, so the best step is to download them from the Microsoft website.
Open the official page for the Visual C++ Redist Packages download.
Click on the Link and download vc_redist, which suits your operating system architecture.
➡ X86 is for 32-bit systems.
➡ X64 is for 64-bit systems.

Run the installation package and follow the steps.
Restart your PC.
2. Update the network driver
Time needed: 5 minutes
Getting Payday 2 update on your PC requires a stable internet connection. The software responsible for creating and maintaining connection between your PC and the server is the network driver. Keep the network driver updated to avoid potential connection-related issues.
Click the Windows icon, type Device Manager, and open this tool under Best Match.

Double-click on the Network Adapters section.

Right-click on your internet adapter and select Update driver.

Select the Search automatically for drivers option.
Install the driver update if the Update Driver Wizard finds one.
Restart your PC.
To receive automatic network driver updates, use Outbyte Driver Updater. This tool takes complete control and responsibility over driver management, so you can sit back and enjoy your favorite games!
3. Restart network settings
Specific network settings are stored locally on your PC. If you experience issues updating Payday 2 or general connectivity issues, we recommend you use Command Prompt to restart network settings on your PC quickly.
Click on the Windows icon, type Command Prompt, and open it.
Paste the following commands and hit Enter after each one:
ipconfig /flushdns
ipconfig /registerdns
ipconfig /release
ipconfig /renew
netsh winsock reset

Restart your PC.
Extra steps
Here are some additional files you can apply if Payday 2 won't update:
❌ Close background apps: This will prevent compatibility issues caused by unnecessary apps.
💿 Launch Payday 2 in compatibility mode: Learn how to launch games in compatibility mode.
💽 Free up disk space: Payday 2 requires more than 80GB of free space. Each update can contain several gigabytes of data. Have at least 20% free space available on disk.
📁 Verify game files: Instead of going through lengthy reinstallation, use this integrated system!
⬆ Update Windows: Click the Windows icon, type Check for updates, and open these settings. If any updates are available, download them, install them, and restart your PC to complete the process.
🔁 Reinstall Payday 2: The last resort is to uninstall the game, restart your PC, and perform a clean Payday 2 installation, so no update is required afterward.
Related articles:
Conclusion
To wrap up, you can fix the Payday 2 won't update issue by disabling mods and launching the game as an administrator. Some of the best technical solutions for the problem include updating the network driver, installing Visual C++ dependencies, and restarting network settings.
Don't forget to close background apps before launching the game distribution platform on which you have Payday 2. Ensure you have at least 20% of disk space available. If the problem persists, try verifying the game files, and if it doesn't help, reinstall the game.
If you encounter any issues or errors while playing your favorite games and require support, feel free to contact us here. Our team is always ready to assist you and ensure your gaming experience is seamless and enjoyable.