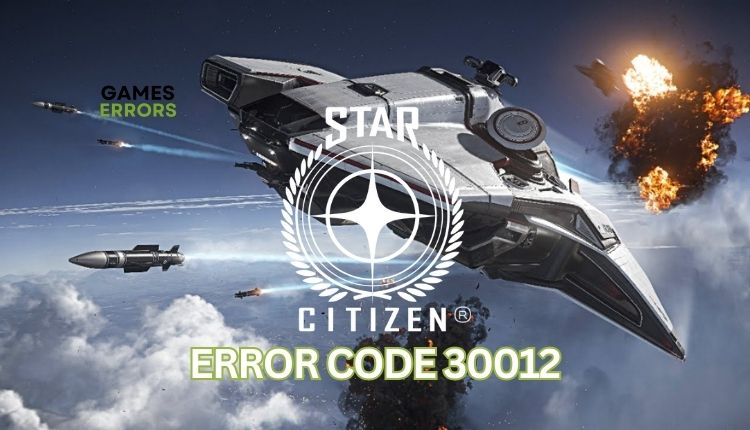 Star Citizen Error Code 30012: Tips For Quick Fix
If you encounter error 30012 while playing Star Citizen, follow our guide to resume gaming quickly. 👍
If you're getting error message 30012 in Star Citizen and you're losing connection, there's nothing to worry about. Even though this space sim is still in development and doesn't have a set release date, it's been available to the public since 2015 in its alpha version, which is sometimes unstable. Let's solve this problem and get you back to your smooth gameplay without the ERROR – Disconnection (CODE 30012) in Star Citizen bothering you.
What causes ERROR – Disconnection (CODE 30012) in Star Citizen?
A disconnection issue may occur with an error message displaying error code 30012 when playing Star Citizen. The main reason of this problem are unstable servers or a faulty internet connection from your side. In addition, this could be due to problems with corrupted game files, outdated system drivers, etc. The error comes with the following message.
ERROR – Disconnection (CODE 30012).
Socket error:
Unable to send data.
If the problem persists please check the internet connection.
How to fix error code 30012 in Star Citizen?
To quickly fix error code 30012, you can follow these simple pre-checks:
Do you still get error code 30012 in Star Citizen? Then, try these solutions:
1. Update network driver
Outdated network drivers can cause errors in Star Citizen, such as error code 30012. To solve this issue, update your network driver to the latest version. Here's how:
1. Right-click on Start and choose Device Manager.
2. Double-click the Network adapters to expand.
3. Right-click on your network card to select Update driver.
4. Follow the on-screen guide to search for, download, and install a new network driver.
You could also update your graphics drivers while you are at it to prevent future errors and improve overall performance.
With Outbyte Driver Updater, updating all the drivers on your Windows PC is a breeze. Its fast scanning and one-click updates make the process quick and effortless, freeing up your precious time.
⇒ Get Outbyte Driver Updater
2. Temporarily turn off the firewall and antivirus
If you are experiencing error code 30012 while playing Star Citizen, it may be due to your Windows Firewall or antivirus software blocking game resources. We recommend temporarily turning off the firewall for troubleshooting purposes.
1. Press the Win + R keys to launch the Run dialog box.
2. Type; "firewall.cpl" in the dialog box and press Enter to open Windows Defender Firewall settings.
3. Click on Turn Windows Defender Firewall on or off.
4. Tick radio buttons – Turn Off Windows Defender Firewall.
5. Relaunch the Run dialog box.
6. Type; "windowsdefender:" and hit Enter to open Virus & Threat Protection.
7. Under Virus & Threat protection settings, click on Manage settings.
8. Toggle OFF Real-time protection.
3. Verify and repair game files
4. Change country and region
To resolve error code 30012 in Star Citizen, you can try to change your country and region settings.
1. In your browser, navigate to the Star Citizen website.
2. Click on the Account in the upper-right corner and Sign In with your e-mail and password.
3. After successful login, click on Account and then on Settings.
4. Navigate to the Profile settings.
5. Change your Country and then choose a different Region.
6. Click Apply Changes and launch Star Citizen to check if the issue is gone.
👉Extra steps:
If you are still experiencing error code 30012 in Star Citizen, here are some additional options to consider:
Related Articles:
Conclusion
We've created a list of tips to help you avoid encountering error code 30012 while playing Star Citizen. To resolve the issue, try restarting your game launcher, checking for server or network issues, updating your network driver, and verifying your game files. Consider selecting a different region or temporarily turning off your firewall and antivirus. However, if you have further questions or suggestions, don't hesitate to comment below; we'll be happy to help you.