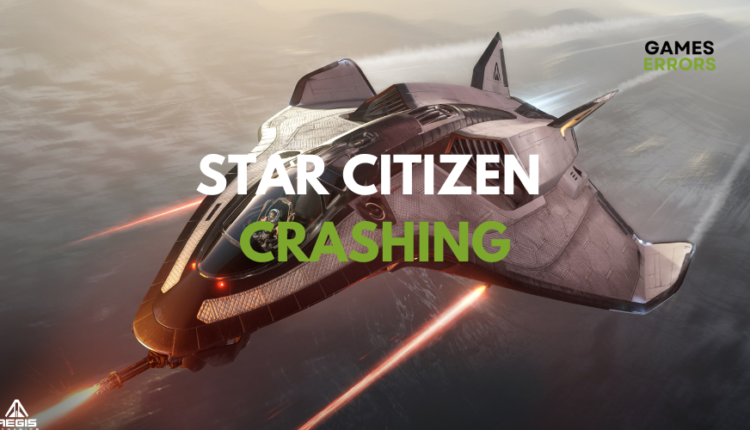 Star Citizen Crashing: Why & How to Fix it Easily
Does Star Citizen keep crashing on PC? Update your graphics driver and follow this guide to fix it🎯
Star Citizen is a popular multiplayer game that is eagerly awaiting the release of a full version, which has yet to be released.
In the meantime, players can only access various modes known as 'Modules' that provide different player experiences.
Even with the controversy and challenges already overshadowing the game, players are still reporting Star Citizen crashing on PC, among other problems.
What causes these crashes? How do we fix it? Let's explore the answers together in this guide and get you back to Persistent Universe in no time.
Why does Star Citizen keep crashing PC?
After going through multiple forums, including Reddit and RI Community, we identified various reasons why Star Citizen keeps crashing on PC. These include:
Outdated device drivers
Third-party program interference
Conflicting external devices
Insufficient virtual memory
Incorrect character account
How can I fix Star Citizen crashing problem?
Even before diving into the solutions, we recommend that you check that your PC meets the minimum system requirements for running Star Citizen. Also, we recommend disconnecting all external devices such as Printer, USB drive, external mouse and keyboard, and PS4 from your PC.
You should also reboot your PC. This is a simple but very effective way to start your game with a clean slate.
To fix Star Citizen Crashing, follow the steps below.
Table of contents:
1. Close background programs
Background programs might cause conflicts and errors when they interact with running games such as Star Citizen. By closing the unnecessary applications, you can increase the resources of your system, and also prevent any problems they might create.
Open Task Manager by pressing Ctrl + Shift + Esc together, then click the Processes tab.
Find and close apps that are eating your CPU and Memory. Right-click, and select 'End Task'.
Select 'End Task' for each program in Task Manager.
Restart the game and check to see if the issue has been resolved.
2. Reset your character account
Go to the Game Installer web page and log into your account.
Select "Settings" from the top toolbar and choose "Character Reset" from the menu that appears.
Click 'Reset Request' to confirm.
3. Increase page file size
If your page size is small, give Star Citizen a bit more space to avoid crashes. To do this:
Press Win + E keys to open the File Explorer, then right-click "This PC" and select "Properties."
Click "Advanced system settings" on the left side of the window.
Under the "Performance" section on the "Advanced" tab, click "Settings."
In the "Virtual memory" box, click "Change."
Select the drive where you store the game, click "Custom size," and set the size to a larger value. Set the initial and maximum size according to your needs, then click "OK" to save the changes.
4. Update your graphics driver
Time needed: 4 minutes
Many games including Star Citizen are prone to crashing. This can be attributed to an outdated graphics drivers. To fix this:
Open the Start menu and type 'Device Manager' in the search bar.
Find the 'Display Adapters' option in the drop-down menu.
Expand the 'Display Adapters' menu and select the specific adapter you want to update.
Right-click on the adapter and select 'Update Driver' from the drop-down menu.

A dialogue box will appear. Click the 'Search for updated driver software automatically' option.

Follow the on-screen instructions in the Driver Update Wizard to complete the installation of the updated driver.
When the driver update is complete, restart your computer for the changes to take effect.
Tired of manually updating your device drivers? Does Windows sometimes fail to automatically find and install the latest driver for your PC? We recommend using a third-party tool, Outbyte Driver Updater. It automatically finds and installs the best and latest driver for your PC, thus preventing frequent crashes during gameplay.
⇒ Get Outbyte Driver Updater
5. Run the game as an administrator
If the resources allocated for Star Citizen are insufficient, this may cause the game to crash. To fix this, run the game as an administrator by following the steps below:
Right-click on the Star Citizen Installer shortcut on your computer and select Properties.
In the Properties window, navigate to the Compatibility tab.
Tick the box next to Run this program as an administrator. Click OK to save your changes.
Restart your computer and see if Star Citizen still crashes.
You can also run the game as an administrator by right-clicking on the game executable and selecting 'Run as administrator'.
6. Disable Win 10 Xbox gaming overlay
Press the Windows logo key and 'I' at the same time.
Select "Gaming" and Click on Game Bar.
Uncheck the "Capture game clips, screenshots, and broadcast using the Game Bar" checkbox.
Go to "Capture".
Uncheck 'Record in the background while I'm playing a game' under 'Background recording'.
7. Reinstall your Game
Open the Windows search box and search for 'Control Panel'.
In the Control Panel window, select 'Programs' and then click on 'Uninstall a program'.
Locate RSI Launcher in the list of installed programs, right-click on it and select 'Uninstall'.
Follow the instructions on the screen to complete the uninstallation process.
Related Star Citizen Articles:
Conclusion
For more tips and tricks, check out our ultimate guide on how to stop games from crashing. We hope these solutions have helped fix Star Citizen Crashing. As always, leave us a comment, question, or suggestion in the comment section below. Happy gaming!